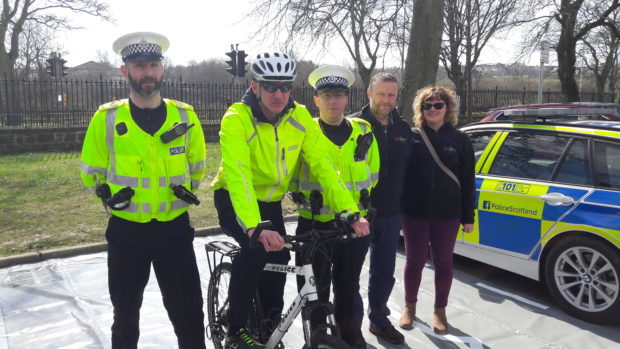 Police have launched a new campaign aimed at highlighting the safety of cyclists in the north-east today.
Operation Close Pass targets drivers who pass unmarked police cyclists too closely, they will then be stopped and given advice.
A specially designed mat is used which shows how much space a pedal cyclist should be given when being overtaken by a motor vehicle.
The campaign, originally introduced in Edinburgh last year, will now be rolled out across the north-east.
Road Policing Sergeant Peter Henderson explains: "Cyclists are considered vulnerable road users so it is important that drivers recognise the importance of giving them sufficient space on the roads. Passing cyclists too closely puts all road users in danger.
"Those drivers that we stop during this operation will be shown how closely they passed the unmarked officer by standing on our specially designed mat. You should allow at least as much room as you would when overtaking a car when passing a person on a bicycle, giving consideration to the maximum speed limit and time and distance available to you."
He added: "With the better weather and longer days, we expect to see an increase in the number of pedal cyclists using the road network across the north-east. It is therefore imperative that all road users, including cyclists, are aware of their vulnerability irrespective what mode of transport they are using.
"In the coming weeks, we will be taking 'Operation Close Pass' into communities in order to spread this vital road safety message. The focus is very much on engagement and education rather than enforcement however, if necessary robust action could well be taken."
NESTRANS, the transport partnership for Aberdeen and Aberdeenshire is supporting local Police with the new initiative.
Jon Barron, NESTRANS Cycling Development Officer said: "This Operation and the heightened awareness it brings, has proved a resounding success across the UK in reminding all road users of the importance of looking out for, and giving more time and space to, those who are particularly vulnerable.
"I hope it can help spread the same very important messages across the North-East's roads. We all have a part to play, drivers and cyclists, in ensuring each other's safety. Please respect and follow the rules of the road."