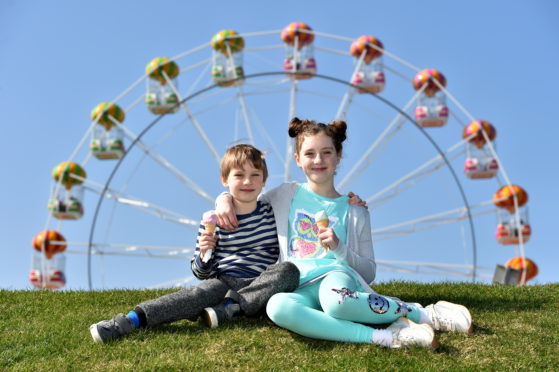 The north-east is expected to sizzle as the hottest part of Scotland this weekend.
Ice cream shops and beaches were busy yesterday as the heat wave began, but forecasters have advised that temperatures will soar further today and on Sunday.
Met Office forecaster Sophie Yeomans said Aberdeenshire was likely to experience the warmest weather in the country over the long weekend.
She said: "We are expecting temperatures of 19 or 20C in parts of the north-east on Sunday and that could even get a little bit higher on Monday."
Temperatures are predicted to peak at 17C today in the far north and at 19C in Inverness and Elgin on Sunday, but could reach as high as 22C in Aberdeenshire on Monday.
Forecasters have advised that the weather will be more of a "mixed bag" in the west of Scotland, with cloud and rain likely to put a dampener on the weekend in Oban and Fort William.
The owner of the Fochabers Ice Cream parlour, Sheila Gray, explained that this weekend is usually one of the busiest of the year anyway, as scores of tourists visiting Moray for the Spirit of Speyside Whisky Festival stop by.
She said extra staff would now be on duty in preparation for a boom in trade created by the combination of tourism and sunshine, while extra batches of whisky-flavoured ice cream are being concocted.
Last night, Ms Gray said: "This is usually a great weekend for us and we have already had lots of people sitting outside enjoying the weather.
"We will have extra staff on this weekend and I am making up more ice cream as we don't want to run out."
Temperatures could hit 28C in the south-east of England on Monday as people round off their three-day weekend – making it the hottest in nearly two decades.
Bank Holiday Monday in 1999 was 23.6C, while the hottest bank holiday weekend ever was in 1995 when temperatures peaked on the Saturday at 28.6C.
Most parts of England and Wales will enjoy temperatures in the 20s throughout the weekend.
The Met Office has attributed the above-average conditions to warm air coming up from the south, combined with high pressure in parts of the UK ensuring that the weather remains dry.