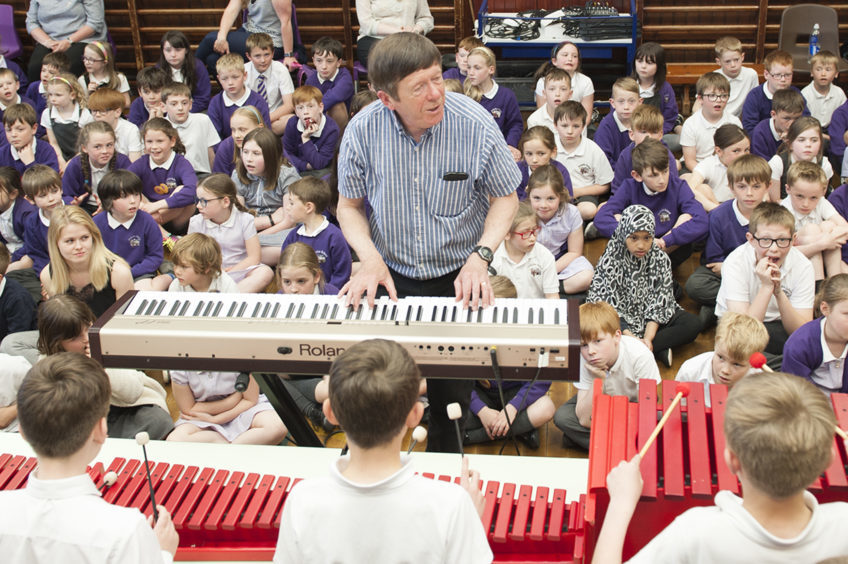 A jazz pianist had an "emotional" reunion at his former school yesterday after being advised by his teachers as a child not to pursue a career in music.
Richard Michael BEM visited Arduthie Primary in Stonehaven to teach children a series of workshops and perform in a concert.
He is well known to audiences through his broadcasts on Radio Scotland's The Jazzhouse and Jazz Nights programmes.
Reminiscing yesterday, Mr Michael said the building, which was the site of Mackie Academy when he was a student, was "largely unchanged".
He was returning to the school 50 years after ignoring the advice of his teachers and described the occasion as "emotional".
He said: "I'm returning as a Jazz professor to what is now Arduthie Primary – after some of my teachers did their best to dissuade me following a career in music."
However, one of his teachers did "inspire" him as a youngster and yesterday Mr Michael hoped he had passed on some inspiration of his own to the pupils.
He said: "I'm sure that the music teacher who changed my life, Mr David McGinnigle, never realised what he was unleashing when he inspired me to devote my musical life to playing jazz – in a room just a few doors away from where I am
introducing Arduthie youngsters to the skill of improvising in front of an audience.
"When I learned to play in front of an audience all those years ago, that was a great boost to my self-esteem. It's simply a great feeling to return to my old school and pass on some of what I've learned to a new generation of children."
More than 100 children took part in jazz workshops yesterday and each improvised a solo as part of an informal finale concert.
A former teacher himself, Mr Michael said it had been his musical parents who had given him the confidence to perform, he added: "My parents John and Betty Michael, were both involved in the musical life of Stonehaven in bygone times.
"Dad led the John Michael Concert Party giving concerts for charity throughout the Mearns, and mum played the violin in her Uncle William Gordon's Strawberry Bank Reel and Strathspey band.
"Both my late brother Will and I learned the priceless skill of communication by being introduced to performing at such an early age. When we worked together in London's Wigmore Hall and Festival Hall, we often came off stage saying to each other "Thanks Dad", because all that performing experience kicked in as soon as we appeared on stage."
Mr Michael has become an Honorary Professor of Jazz Piano at St Andrews University, director of the acclaimed Fife Youth Jazz Orchestra and also organist in Abbotshall Church Kirkcaldy since retiring from teaching.