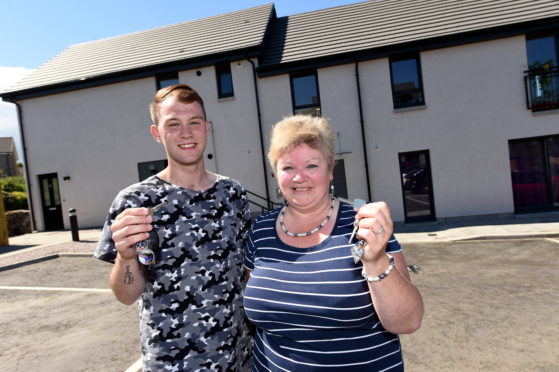 The latest housing development for Aberdeenshire Council was officially opened yesterday as tenants celebrated living in their new "homes.
The collection of homes in Inverurie's North Street was built by Bancon Homes and handed over to the council in April.
Now all 16 properties have been let out, slightly easing the authority's 7,000 strong housing waiting list.
Chairwoman of the Communities Committee, Anne Stirling last night welcomed the new tenants and said: "This project is a great demonstration of the good partnership working between Aberdeenshire Council and Bancon Homes, and of the continued roll out of our affordable housing programme.
"To see out strategy move from paper to reality is fantastic, and to see the accommodation first hand really underlies that.
"We currently have 7,000 people on the waiting list."
Joyce Jaffray, 59, has been living in her one-bedroomed ground floor flat since April and said it was "beautiful".
Joined yesterday by her new neighbour, Joseph Cordiner, 18, the pair both agreed that they had been lucky to move in next to a "friendly bunch" of neighbours. Mr Cordiner added: "Everyone talks to me here – we are all very friendly.
"I love living in Inverurie; it has so much going for it and my flat is amazing."
Aberdeenshire's chief executive, Jim Savage was also on hand to welcome the new tenants, he said: "I think it's amazing to see the investment here and good to see the tenants in their flats with beaming smiles on their faces.
"We are wanting to look at the options for more developments like this and are looking a programme of getting more and more affordable housing in place via a combination of more projects like this and also developing the small pieces of land we own ourselves.
"We know that we have a large waiting list of people wanting housing, but we have to balance the investment we have got in terms of bringing our existing housing stock up to energy efficiency standards as well as acquiring new stock as well.
"It's a juggle all the time – we are in constant conversation with the government just now to get more funding and money from them because we would use it quite happily use it in Aberdeenshire."
Allan Clow, managing director of Bancon Homes, said: "We are pleased to be working in partnership with Aberdeenshire Council and providing modern, high quality homes where they are most needed."