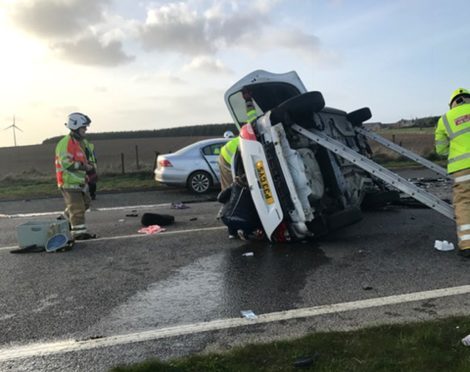 A Peterhead teenager has admitted causing the "catastrophic" car crash that killed a 66-year-old woman and left an 18-year-old paralysed from the waist down.
Kathryn Forman was flicking a cigarette from the window of her Peugeot 207 when she lost control on the A90 Aberdeen to Peterhead road on April 5, 2017.
That inattention saw her car career around the carriageway and finally smash into a second vehicle in which Dorothy Cruickshank was a passenger.
Six people were taken to hospital as a result of the crash near the Toll of Birness junction, including 19-year-old Forman. Mrs Cruickshank died as a result of her injuries.
At Aberdeen Sheriff Court yesterday, Forman pleaded guilty to driving "without due care and attention or reasonable consideration for other persons using the road" on April 5, 2017.
Depute Fiscal David Barclay said the teenager had been driving along the A90 with three passengers when she "mounted a kerb and nearside verge".
"The accused attempted to counter-steer which caused the vehicle to swerve out of control," he said.
It then crashed into the Volkswagen Passat being driven in the opposite direction by Mrs Cruickshank's husband James, propelling his car sideways into a lay-by and trapping the couple inside.
Mr Barclay said: "On impact, the accused's vehicle was thrown upwards, spun over 360 degrees and came to rest on its near-side in the middle of the carriageway.
"The force of the impact ejected the engine, gearbox and associated components from the vehicle."
After arriving at the hospital, doctors found Mrs Cruickshank had suffered "life-threatening" internal injuries as well as fractures in her legs, ribs and pelvis.
She was rushed for emergency bowel surgery the following week but died of multi-organ failure on April 15.
The court was also told of the injuries suffered by the three passengers in Forman's car, with two of them having no recollection of the crash whatsoever.
One teenager was left paralysed from the waist down for three weeks and had a broken pelvis, ankle, clavicle and ribs as well as a collapsed lung.
She also required spinal fusion surgery before being transferred to hospital in Glasgow for specialist treatment.
The other two passengers both broke their pelvises.
Meanwhile Mr Cruickshank had cuts and bruises as well as pain in his right leg, but did not require a stay in hospital.
Mr Barclay added: "Mrs Cruickshank lived with her husband James and had three daughters and three grandchilden, with whom she had a very close relationship.
"She played an active role in her community through her church and the local rambler's association."
Forman's defence agent Gavin Anderson told the court his client had also suffered serious injuries.
He said the 19-year-old had swelling on the brain, a broken jaw and required surgery on her spine in two places.
Sheriff Brown described the crash as "catastrophic".
He deferred sentence on Forman, who lives on Iona Avenue, Peterhead until next month to allow for a social work report to be presented to the court.