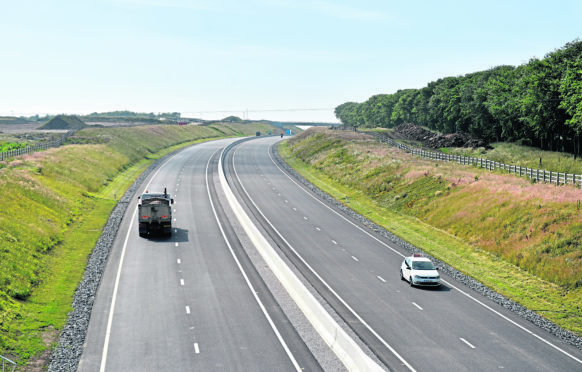 Thousands of people will be invited to party on the Aberdeen Western Peripheral Route (AWPR) next month in what may be a hint the project is nearing completion.
The Go North East Road campaign, set up by Transport Scotland, will host a special community weekend on September 8 and 9.
It will see 12,000 people will be invited to enjoy a "carnival atmosphere" and see the new road for themselves.
The event, which will take place on the bypass, close to the River Dee, will invite the public to walk and cycle on the bypass before pedestrians and cyclists are banned from the AWPR when it opens.
Revellers will also be able to sample local food and drink, listen to regional musicians and see "travel-themed demos, art and information villages" highlighting how the AWPR will change the north-east.
While that all appears to mark the final stages of the £750 million infrastructure project, Transport Scotland said a final date for the grand opening of the long-awaited bypass had yet to be finalised.
It is expected to open to traffic at some point this autumn.
A statement from the festival's organisers said: "The AWPR community weekend is a free public event celebrating the opening of one of the largest infrastructure projects in Scotland, part of Transport Scotland's commitment to improving travel in the north-east.
"The free weekend of activity will allow the general public pedestrian and cycle access on to a section of roadway to enjoy a carnival atmosphere.
"There will be a programme of activities and entertainment, including active travel, vintage vehicles through the ages and looking ahead to the future of transport – all while highlighting the importance of the project and how the AWPR will connect communities, business and the region with a safe and modern road network for the future."
Although "vintage vehicles" will be involved in the event, last month farmers demanded Transport Scotland chiefs scrap plans to ban tractors from the bypass.
The National Farmers Union argued that local farmers bore the brunt of a great deal of disruption caused by the construction of the project and should be allowed to take advantage of the new route.
The new multi-million-pound road has been given a special designation, which limits the distance farm traffic can travel on it.