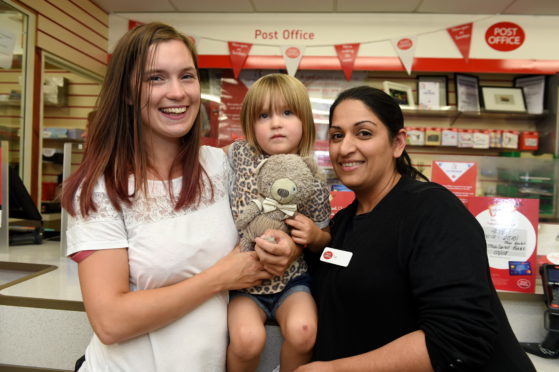 A toy bear was reunited with its owner after being forgotten in a local post office.
Boris the Bear was found abandoned at Berryden Post Office on July 28.
Staff at the post office looked after the lost toy for over a week, even showing Boris how to operate the letter stamper with his bear paws.
On July 29 a member of staff posted the orphaned teddy picture on Facebook, appealing for anyone with information on his owner's whereabouts to come forward.
Over 3,000 shares later, on July 7, Boris's family came across Berryden's Facebook post.
The bear was reunited with his owner, two-year-old Sophie, a day later, much to her parents' relief.
Rachel Anderson, Sophie's mother, said: "She loves Boris the Bear and was very upset when she realised he was missing.
"We told her that he was having a sleepover at Granny's house and she seemed happy enough with that.
"But she was delighted to get him back from the post office and greeted him with a big hug saying, "Boris is back from the hospital."
Salaha Ahmad, manager of Berryden Post Office, said: "You wouldn't normally associate a post office with a Facebook presence but we find it is an amazing way to keep in touch with the community.
"We are so happy that Sophie found Boris, we love a happy ending."