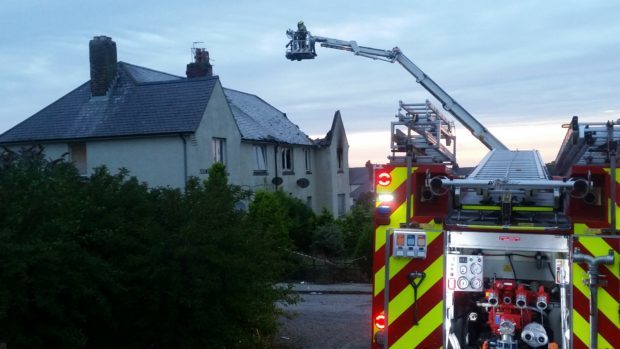 Fire fighters spent more than two hours battling a severe blaze in an empty building earmarked for demolition as part of the Haudagain roundabout improvement scheme this evening.
The emergency services were called to the scene of the incident on Logie Avenue shortly after 5pm.
Although just two fire engines were sent to the blaze in the two-storey building initially, four more fire appliances were dispatched to the incident.
The fire was brought under control by 7.19pm, however the emergency services remained at the scene for several hours later to ensure the blaze was fully extinguished.
Manor Avenue was blocked by police officers for the duration of the fire.
A height appliance was used to break away tiles from the roof of the building to allow fire fighters access from above.
Nobody was hurt in the incident, however the property was severely damaged.
The roof of the building was mostly destroyed, and nearby residents reported large plumes of smoke billowing into the sky during the fire.
Demolition has already commenced at Logie Avenue as part of the £30 million Haudagain improvement scheme.
Empty properties are being torn down throughout the area close to the notorious roundabout ahead of new infrastructure work to improve traffic flow through the region.