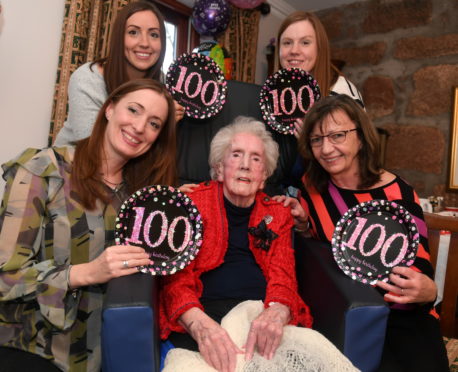 A woman born just days before the end of the First World War celebrated her 100th birthday, putting her longevity down to "not eating porridge" and "keeping busy".
Originally from Cromarty, Catherine MacAulay spent her big day having a tea-party with a group of more than 50 family and friends.
Now living in Midmar with her daughter Helen Robertson, Mrs MacAulay reflected on a life that has seen her mingling with stars and royalty.
She said: "I don't like porridge and I think the secret to long-life must be spending your time properly – I used to do a lot of charity work."
---
>> Keep up to date with the latest news with The P&J newsletter
---
Mrs MacAulay studied at Edinburgh's Domestic Science College before World War II broke out and went on to work in the city's five-star L'Aperitif restaurant where she met many famous film stars including Bob Hope, Ginger Rogers and Bette Davis.
The restaurant often catered for the Royal Family when they stayed at Holyrood and Mrs MacAulay also remembers working at a ball in Kirriemuir where Princess Margaret was the guest of honour.
"She was too lovely," recalled Mrs MacAulay. "She was exquisitely dressed in pale yellow silk.
"I opened the door from the pantry in time to meet her cart-wheeling down the corridor. She simply said 'Oops! – I am enjoying myself'."
During the Second World War, Mrs MacAulay, or Miss Clark as she was still then known, joined the WRENS and worked as catering housekeeper at La Maison Franco Ecossaise in Charing Cross.
"I became quite fluent in French working there," said Mrs MacAulay.
"When the war ended I often received letters from wives and mothers thanking me for being kind to their loved ones."
In 1942, she moved to RAF Leuchars, becoming the catering manageress of the station until the end of the war when she returned to Cromarty for a short time before taking up her old position in Edinburgh at L'Aperitif once more.
It was while in Edinburgh she met and married civil engineer Robert MacAulay in 1951. Daughter Helen arrived a few years later.
The family spent some time in Africa where Mrs MacAulay ran the women's school in Chalimbana, near Lusaka, which taught domestic science.
They eventually returned to Cromarty in 1960, but sadly Robert died in 1966 following a long struggle with a heart condition.
Mrs MacAulay worked in Cromarty's Royal Hotel for a time before buying her own restaurant, The Byre.
She said: "It was quite popular and we made it into the Good Food Guide – a first for Cromarty and the Black Isle."
Having lived on the coast for so many years, Mrs MacAualay's charity of choice when organising her many fundraising events was always the RNLI.
This year for her birthday she has asked that her friends and family all donate to the charity instead of giving her presents.
"I believe we all have a guardian angel," said Mrs MacAulay. "And that we get back from this world what we put into it."