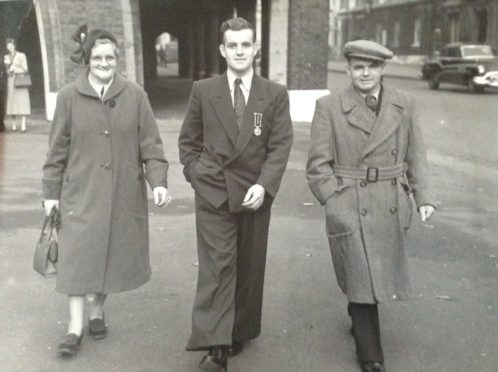 Tributes have poured in for a true hero of the north-east seas following his death on Monday.
Peter Strachan, known as Shonie, was 84 when he peacefully passed away at home with family by his side.
As a young fisherman, Mr Strachan was given a Stanhope Gold Medal by the Royal Humane Society for the bravest deed of 1952 within the Commonwealth.
On the evening of October 27 that year, while fishing in stormy weather some 42 miles off the coast of Great Yarmouth on his uncle's vessel the Three Bells, a shipmate was struck by a rope and thrown overboard.
In a rescue with only a "million to one" chance of survival, Mr Strachan dived into the sea to locate the unconscious 15 stone man as he slipped below the surface.
He then supported him, keeping him from drowning for what must have seemed an age.
After a 35 minute struggle, the pair were hauled back aboard the vessel, with Mr Strachan's stricken shipmate also surviving the traumatic ordeal.
For his bravery, the 18-year-old was awarded the Royal Humane Society medal, taking his parents with him to London to see him presented with it by the Duke of Gloucester at St James's Palace.
Mr Strachan had taken to the seas at the age of 15 despite his own brush with near tragedy in the water.
He almost drowned  at the Smith Embankment  in Peterhead aged four – only to be rescued by a passing young lady – but nonetheless left Peterhead Academy 11 years later to join his father on their boat.
Mr Strachan had been born on  September 22, 1934, the second son of John and Elsie Strachan of Peterhead, where he grew up with his six siblings.
Aged 22, he became one of Scotland's youngest skippers, naming his increasing large fleet Stanhope – Stanhope 1, 2 and 3.
He retired at the age of 49 to spend more time with his beloved wife Agnes Buchan before she died shortly after their 60th anniversary, in February 2016.
He leaves behind his four children, Doreen, Agnes, Shona and Peter, together with nine grandchildren and a great-grandchild.
Mr Strachan's son, Peter junior, said the accolades and success he achieved during his life did not matter to his father half as much as his family.
"He was the best dad ever," he said.
"My best times with him were when we were out fishing.
"His greatest achievement was his family and that is the reason why we are so close."
His sister Shona Turnbull agreed her father's main priority had always been his family.
She said: "He was very much a family man, and an unassuming man.
"He was a very successful fisherman and businessman, but family always came first."
And their sister Doreen Smith added: "He was a much-loved family man, a quiet man but also a true hero who will be sorely missed by many who knew and respected him."
Family friend John McLean said Mr Strachan had been a great fisherman.
He said: "I met Peter as my family were fishermen and I was a ship builder.
"He was very well known, a very nice man and will be missed by people in the north-east."