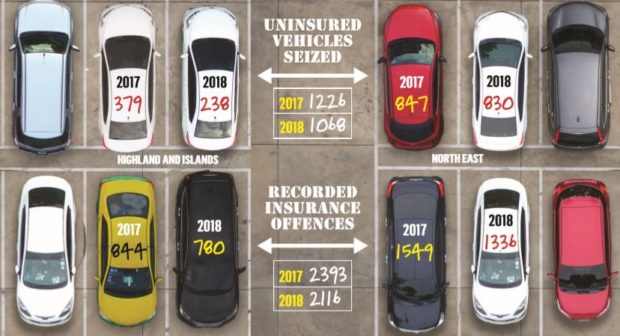 Thousands of people in the north and north-east have had their cars seized by police for driving without insurance.
Figures released through Freedom of Information reveal there were 2,294 vehicles taken after drivers were stopped in 2017-18.
Officers have the power to seize vehicles until valid documents are produced, or take criminal action.
During the same period, there were 4,509 insurance offences processed and recorded by the force.
The highest number of seizures were in the North East division, with 1,677 taken by police. There were 2,855 offences recorded.
Meanwhile in the Highlands and Islands, there were 617 vehicles seized and 1,624 offences recorded.
Motorists' groups have praised police for cracking down on uninsured drivers but say they should keep up the pressure.
Neil Greig, police and research director for IAM Roadsmart, formerly the Insitute of Adavnced Motorists, said: "The figures should be going down because it's harder and harder to get away with this because we have joined-up databases.
---
>> Keep up to date with the latest news with The P&J newsletter
---
"It should be becoming much more difficult because it can be picked up on a police camera by the side of the road.
"But it's still pretty high and this is not a victimless crime. The people doing it know they are doing it.
"Gone are the days where people were not sure about the rules. If someone is doing this they are doing it deliberately.
"And it's quite often while they are trying to cover up another crime."
Liam Kerr MSP, the Tory shadow justice secretary, who also represents the North East region, said the figures should be a reminder to anyone considering avoiding paying for insurance.
He said: "Driving while uninsured is a massively problematic offence. It also ramps up insurance costs for law-abiding citizens."
Police have branded the offences "irresponsible" and warned this type of behaviour will not be tolerated.
Neil Morrison, road policing inspector said: "Every uninsured vehicle removed from the road contributes towards making our communities safer places for everyone.
"Every detection reinforces the strong message to those who choose to drive without insurance that they are not above the law and that they will be reported.
"Failing to properly insure your vehicle is morally wrong.
"It also has the wider impact on society by increasing insurance premiums for everyone.
"This type of irresponsible behaviour will not be tolerated and officers in the north-east will continue to carry out proactive, targeted operations to ensure these offenders are removed from the road."
Anyone who has information related to driving offences should call 101.