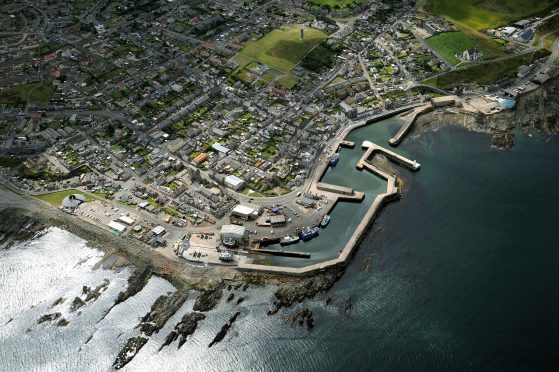 Aberdeenshire Council has turned to trawlermen to help pay for weekend night watch staff at Macduff Harbour.
Safety fears were raised over a lack of cover on Saturdays and Sundays at the port after two boats broke free from their berths and were left to drift following bad weather in January.
In the wake of that, the local authority has decided to introduce a weekend service so the quayside is appropriately covered, 24/7, but they need to find £27,000 to pay for it.
To that end, a meeting was held in the town hall last night to discuss the way forward.
And the proposal that gained the majority of support at the gathering of the Macduff Harbour Advisory Committee was a one-off annual payment from harbour users.
It would be based on the size of the fishing boat using the port and initial costings show that a vessel measuring 55ft would pay £131.
Skipper John Clark has been calling for weekend watchman to be introduced.
He said a single annual payment scheme to make the port safer is a good deal.
Mr Clark said: "I would go along with what you have proposed here.
"After a year we can look at it.
"I would rather it was a one-off annual cost. I've no problem paying that. It seems fair."
Committee chairman Troup councillor Ross Cassie said everyone at the meeting at Macduff Town Hall seemed "pretty happy" with the idea.
Council chiefs are currently recruiting for two relief harbour night watch jobs at Macduff.
Two staff currently carry out the role but there are fears when one is off, there is insufficient cover to ensure patrols are made.
An advertisement for the relief watch posts said they were a "fantastic opportunity" and that the port's facilities are part of a "regeneration process".
Work to build a new ice plant at Macduff harbour is already under way.
It is hoped the £400,000 development will help boost the port's fortunes as fishermen will not have to go to Fraserburgh for ice.
The project was made possible after Aberdeenshire Council secured £376,000 from the European and Maritime Fisheries Fund (EMFF).