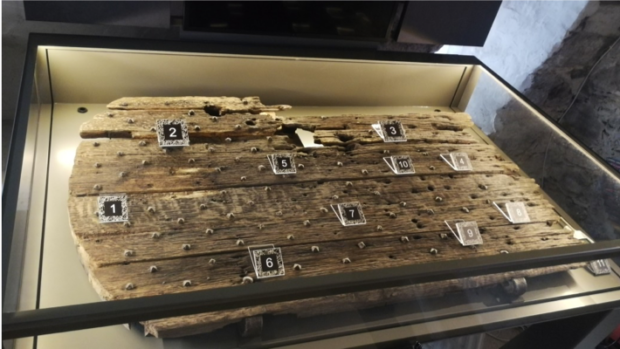 The National Trust for Scotland has opened a hidden door into Scotland's past, after a 400-year-old relic was discovered by a volunteer at an Aberdeenshire castle.
For decades, the location of the original front door of Craigievar Castle, near Alford, has mystified historians.
But earlier this year, a volunteer came across the heavy, studded oak door in one of the outbuildings in the castle grounds.
The door is thought to have been installed at the front of the historic property when construction was completed in 1626, and was replaced in 1825 and then went missing.
Although it had suffered significant damage and deterioration, conservation specialists have carefully restored it to its former glory.
Using a special scientific method of dating tree rings to the exact year they were formed, the researchers have revealed the oak trees used to build the door were felled in the Eastern Baltic in 1510, and 1554.
And now, visitors to Cragievar Castle will be able to see the piece of Scottish history on show.
The new exhibition space also comes with digital elements to help take visitors back through 400 years of history.
Lauren Jackson, conservator at the National Trust for Scotland, has been leading the door project.
She said: "We are thrilled to have made this discovery and reunite the door with Cragievar Castle.
"It now allows visitors an even better experience at the property, giving them the chance to witness the finer details of life hundreds of years ago.
"The castle is brimming with history and the new digital elements we've introduced help visitors explore the door, making it even easier for us to share our love for Scotland and help people experience history like never before."