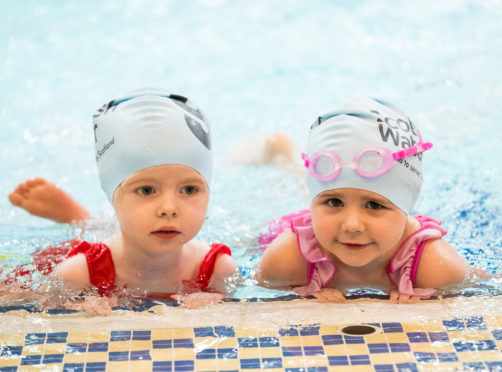 Thousands of young swimmers in Aberdeen are to be taught life-saving skills and how to rescue themselves if they get into trouble in the water.
More than 7,800 children are being given safety lessons as part of Drowning Prevention Week.
The effort is the largest coordinated water safety lesson ever to be held in Scotland, as the school summer holidays approach.
Youngsters, taught by Sport Aberdeen, Aberdeen Sports Village and Aberdeen Amateur Swimming Club will benefit  from the initiative.
The programme has been put together by Scottish Swimming, Scottish Water, Royal Life Saving Society UK and the Royal National Lifeboat Institution.
Scottish Water's Brian Lironi said: "Water can often look harmless, but there are many hidden dangers, so we are totally focused on doing what we can to make sure that parents and children stay safe around rivers, reservoirs and lochs this summer."
They will be taught the Water Safety Code: to stop and think, stay together, float, and call 999 or 112.
Robert Gofton, chief executive of RLSS UK commented: "We are confident that this partnership will help people learn the skills they need to stay safe and enjoy the water.
"We urge as many people as possible to take advantage of the activities being run and learn what could be potentially life-saving skills."
RNLI's youth education manager for Scotland Laura Erskine added: "Educating young people about water safety is fundamental to saving lives and is a core part of RNLI prevention work.
"The more young people we can engage with, the more lives we can save."