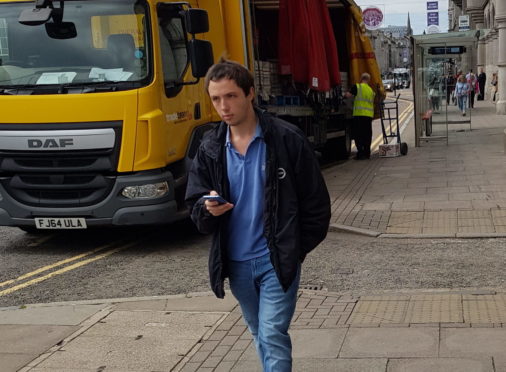 A student who threatened to stage a shooting at a college campus in Aberdeenshire has claimed it was "an ill-thought-out jest".
Andrew McKenzie, 25, sent "repeated threats of violence" to a Whatsapp group, made up of his classmates at North East Scotland College.
On the night of November 12 last year, he told colleagues he was going to college to "start a shooting".
McKenzie, of Nethermains Road in Muchalls, followed this up with a message about AK47 assault rifles.
He also suggested to his shocked classmates that they club together to purchase guns.
A female student emailed screenshots of the messages to college staff who informed the police, while another person in the group chat told McKenzie to stop, prompting him to apologise to his classmates.
Yesterday, at Aberdeen Sheriff Court he was offered a reprieve, as sentenced was deferred until August 2020 to enable him to prove it was a one-off.
McKenzie blamed a combination of stress and alcohol for his actions.
Defence agent Andrew Ormiston said: "I think it is fair to say he is disgusted with himself."
Mr Ormiston told sheriff Andrew Miller it had been a stressful time for the students, who were juggling several coursework hand-ins, all due at around the same time.
"Everyone was stressed," he claimed.
"Mr McKenzie was drunk on the night of November 12 and made a stupid joke, looking for attention.
"He is a first offender and pled guilty at the first opportunity."
Sentence was deferred to allow McKenzie to prove himself as it was revealed a conviction could "seriously threaten" his future career.
Mr Ormiston said his client was "distraught" and called it "an aberration".
The 25-year-old is undertaking another year at college studying health, fitness and exercise.
The court heard future work could be dependent on passing a disclosure test for working with vulnerable people and children.
The sheriff warned: "It is up to you to show it was a stupid joke and nothing more concerning – concerning though it obviously was.
"It is up to you to show you can be of good behaviour."