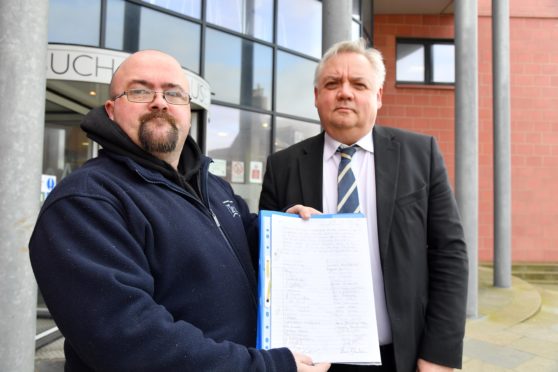 A project to install a dedicated CCTV system in Peterhead has moved forward with a contractor appointed to the project.
Business improvement group Rediscover Peterhead was awarded £79,000 by the Scottish Government's town centre fund for the scheme two months ago.
The network of nine cameras would cover a defined area in the town centre and the images beamed back to the police station.
Businesses in the Blue Toon united to call for CCTV following a string of break-ins at the end of last year.
A petition was handed out to shopkeepers and gathered more than 800 signatures before it was handed into council bosses in February.
Now Rediscover Peterhead is pushing ahead with the CCTV plans after finding a company to carry out the necessary installation work.
They have appointed Aberdeen Technical Services Ltd to install the scheme and it is hoped it will be up and running by the end of the year.
Geoff Cooper, CCTV project manager for Rediscover Peterhead, said the idea has plenty of backing from business in the town.
He said: "In the few weeks I have been involved with the project, I have been absolutely delighted by the widespread support that this project enjoys."
Graham Porteous, managing director of Aberdeen Technical Services Ltd, said the firm was "delighted" to have been appointed to the scheme.
He said the CCTV network covering Peterhead should make the area safer.
Mr Porteous said: "We are delighted to have been selected to work with Rediscover Peterhead and look forward to delivering a first class system which can only help to support the town centre and help to make it safer place to be."
Gilbert Burnett began the campaign for the cameras and started 
the petition after his aquatics store was targeted.
He said: "It seems as though it will be going ahead and it can't be a negative thing for the town.
"I'm not under any illusions it will be put a stop to antisocial behaviour, but it can't do any harm.
Rediscover Peterhead are working with Aberdeenshire Council and the police on the CCTV system.