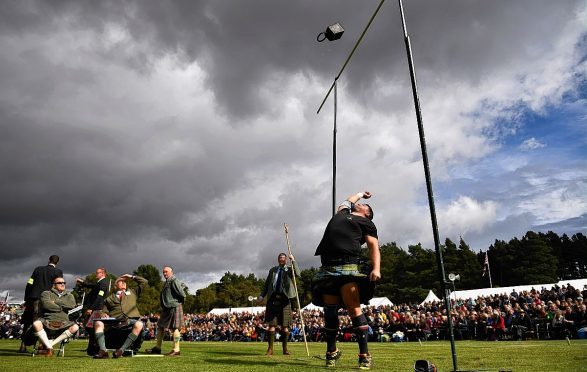 Thousands of people are expected to flock to the Braemar today to take in the Highland games – and catch a glimpse of the Queen.
Her Majesty is the patron of the Braemar Gathering, and is often seen enjoying the array of traditional events from the royal box.
About 15,000 visitors are expected to descend on the Princess Royal and Duke of Fife Memorial Park to take in the heavy events, athletics, piping and dancing competitions.
Organisers are expecting a busy day, with just a few tickets left and a large number of entries recorded.
President David Geddes said: "We're expecting a large crowd – we have less than 100 seats left, and there are 7,000.
"We've also sold a large number of ground tickets for entry to the park which is unusual, because we don't normally sell them till the day.
"We're expecting a good crowd."
This will be the first year in the Braemar Highland Games Centre – named the Rothesay Pavilion – will be open to those who have pre-booked a tour.
The £2.5million exhibition space will give visitors an insight into some of the history of the games, and features a permanent exhibition of the Royal story of Braemar.
Mr Geddes added: "It will make things marginally different.
"The centre itself is not open as a visitor's centre, except for pre-booked tickets, and we'll have a few spaces available on the day."
Police have urged people to leave plenty of travel time as heavy traffic and delays are expected.
Inspector Matt Smith said: "Police Scotland has been working closely with the event organisers and our other partners for months to ensure the event passes successfully and safely. There will be an increased police presence in the area to ensure the safety of those attending the event.
"There will be no on-street parking throughout the weekend and motorists should instead use the designated car parks for the event. These will be signposted and there will also be stewards available to direct drivers.
"Please be aware that there may be last minute road closures – your patience is appreciated."
The games will get under way at 9.30am.