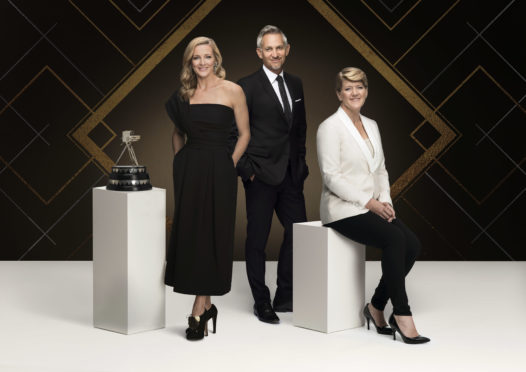 The BBC Sports Personality of the Year awards will be held in Aberdeen for the first time, it was revealed today.
It's the biggest awards in the sporting calendar and the 2019 edition will take place at P&J Live on December 15.
The Aberdeen event will be the second time the awards have been held in Scotland. The first was at Glasgow's SSE Hydro in 2014.
People have been taking to social media to celebrate the news.
Here is a round-up of some of the best tweets:
Delighted to be at the official announcement that SPOTY is coming to Aberdeen on 15th December. Fantastic news for the city. pic.twitter.com/PZ46vVYJqy

— Neil Simpson (@NeilSimmy8) September 17, 2019
Great to see this announced. A major coup for Aberdeen and @PandJLive and I can't wait to bring the festival of sport to @asvabdn #spoty https://t.co/F5gZ9ZcGIE

— Graham Morrison (@Moggie10) September 17, 2019
A coup for Aberdeen as #SPOTY comes to town in December. Pleased to be at the launch and closest I'll ever get to this… pic.twitter.com/6yTjpNcl9k

— Zoe Ogilvie (@PRZoeO) September 17, 2019
We're super excited to hear that @BBCSPOTY will take place at @PandJLive in #Aberdeen this #December??#visitABDN #enjoyABDN #SPOTY #BBCSportsPersonalityOfTheYear2019 https://t.co/F8UU7083pQ

— VisitAberdeenshire (@visitabdn) September 17, 2019
Big coup for the P&J Arena and the city as a whole #SPOTY https://t.co/zlR0h8yw3q

— Steve Gerrard (@SteveGerrard70) September 17, 2019
Brilliant for the City #SPOTY https://t.co/dxwbwttg7J

— Denise Poole (@DenisePoole18) September 17, 2019
This is incredibly exciting, and great recognition for the passion Aberdeen has for sport at all levels. #SPOTY #SPOTY2019 https://t.co/93wDBZtQUx

— Dr Bryan McCann (@DrBryanMcCann) September 17, 2019
Exciting times as the largest new entertainment complex in Europe @PandJLive continues to bring new opportunities and world-class events to the region. We look forward to welcoming #SPOTY to Aberdeen in December!#investABDN #meetABDN https://t.co/9faRIIaqs5

— Invest Aberdeen (@Invest_Aberdeen) September 17, 2019
This morning we attended the launch of a very special event! ️⚽️ ??

It can finally be revealed that the BBC Sports Personality of the Year will be hosted right here in Aberdeen on Sunday 15 December at @PandJLive! @BBCSport

What a coup for our region! ? pic.twitter.com/R4YCwIWNWy

— VisitABDN News (@tourismabdn) September 17, 2019
Brilliant news for Aberdeen with @BBCSport Personality of the Year coming here in December. Going to be a great night. #spoty #bbcspoty pic.twitter.com/S6hXFYpdqa

— Fraser Lovie ?? (@FraxLo) September 17, 2019