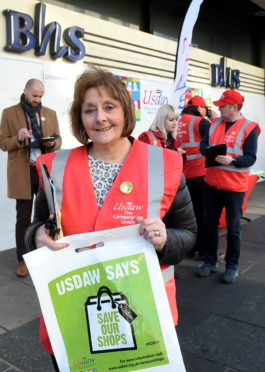 A north-east union boss has called for a change in the law after shock new statistics revealed the average shop worker is being abused, threatened or assaulted on average over 17 times a year.
The Union of Shop Distributive and Allied Workers (USDAW) is urging MSPs to to back the Protection of Workers Bill promoted by Labour MSP Daniel Johnson.
The results came as part of a major survey by the union which gathered 1,027 responses from across Scotland.
Around 60.4% of shopworkers reported being verbally abused, 32.2% threatened and 8% assaulted during their career, while 2.3% said they had been assaulted this year.
Anonymised individual responses have also been released by the union.
An Aberdeen worker wrote: "Customer under influence refused alcohol and become abusive and threatened staff.
"I asked some youths to leave the store and they started throwing things at me."
And an Aberdeenshire staff member wrote: "Refused customer alcohol as they were drunk. They tried to grab my hair and grabbed hold of my shirt."
USDAW north-east area organiser Kate Cumming urged MSPs to back the bill in parliament.
She said: "We undertake campaigns on important issues such as raising awareness of the level of violence and abuse shop workers face and I think the average member of the public is actually shocked by it.
"A lot of abuse that staff face is around the challenge 25 policy and refusing to sell the likes of drink or cigarettes.
"I really don't know why people would ever think this is acceptable behaviour or why anyone would ever think it was OK to treat people like that.
"I am hopeful the bill will pass and put into law how awful this behaviour is."
Mr Johnson said abuse and threatening behaviour should not be part of Scotland's shopworkers' daily work.
"With the busy Christmas shopping season fast approaching it is now more important than ever that this is recognised," he said.
"I believe this bill will secure the rights of all those workers who feel threatened at their place of work and will make it clear that such behaviour will not and should not be tolerated."
Paddy Lillis, Usdaw general secretary, added: "The statistics are shocking, showing that on average a Scottish shopworker can end up on the wrong side of a verbal or physical assault more than once every three weeks.
"Our message is clear. Abuse is not a part of the job.
"Life on the frontline of retail can be pretty tough for many shopworkers and there is still a lot to do to help protect them.
"There needs to be a simple stand-alone offence that is widely recognised and understood by the public, police, the judiciary and, most importantly, by criminals."