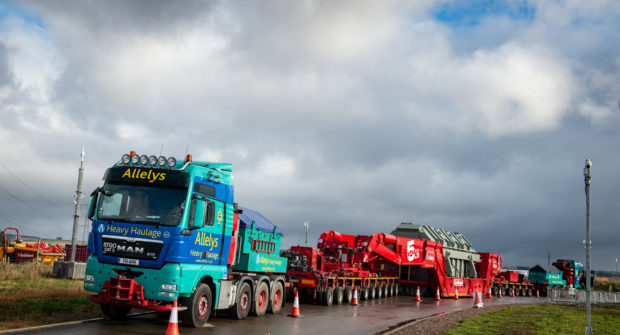 The first of three Super Grid Transformers has been delivered to Moray East onshore substation at New Deer.
Following a 930-mile journey by river, sea and road, the first transformer was delivered by Siemens to the onshore substation at New Deer for the Moray East offshore windfarm development.
The transformer was moved from the port at Peterhead to the substation on Sunday October 27 with a police escort.
Marcel Sunier, Moray East Project Director said: "This is one of the largest electrical components for the largest construction project in Scotland, so I am delighted to see it arrive safely on site.
"The scale of the work involved just to get this transformer to site reflects the magnitude of the project – which will ultimately be capable of delivering almost 40 per cent of the country's domestic electricity needs.
"I would like to thank all those involved in enabling us to reach another major project milestone safely."
Moray East is Siemens' largest grid connection project in the UK and needs three transformers in total due to its size and scale
Each transformer is around 40ft long and weighs a whopping 270 tonnes which is as heavy as 38 African elephants.
It is hoped the installation of all three transformers will be completed by the first quarter of 2020, with all work due to be finished at the onshore substation site by the end of the first quarter of 2021.