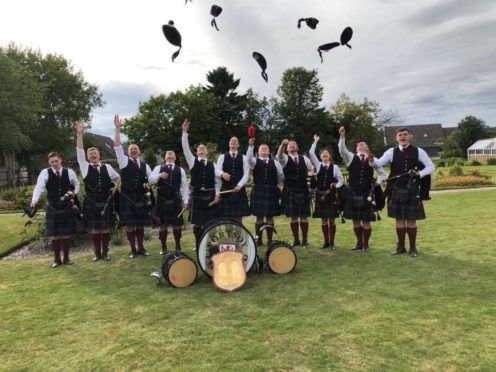 The major of one of Scotland's youngest pipe bands is on the hunt for new members to join its award-winning ranks.
Portsoy Pipe Band formed in 2013, with only three pipers and three drummers.
Now the group has 30 musicians across its senior and junior teams, but it is in need of a few more to deliver the sort of performance they want to.
Pipe major Robert Legge was appointed leader of the group when he left school at the age of 16.
Since learning to play the bagpipes when he was 12, he has been a member of Turriff and District Pipe Band, formed the Banff Academy group, joined Portsoy Pipe Band and then took on the honour of being in charge.
He said: "My favourite thing about pipe bands is the huge development in my self-confidence, and meeting new people all year round from all across the world.
"Not many people can say they were appointed pipe major at the age of 16 and now, at the age of 20, have played multiple times for the Queen and in multiple countries and events across the globe.
"The other great part about pipe bands is the family feeling you develop.
"In Portsoy Pipe Band I've developed a close relationship with all the players, and this has opened friendships outwith the piping world."
The Portsoy collective takes part in local Highland Games competitions and won the Nethy Bridge Pipe Band competition against eight others for the second year in a row last year.
The group has also won the Keith Show Pipe Band competition, triumphing over 10 others.
In its six years, the band has travelled to Germany, Orkney, Latvia and France to perform while clad in the Stewart Tartan.
From now until May the band will be rehearsing for summer competitions.
Mr Legge said: "As pipe major I teach the band new technical skills to develop their playing.
"Each member plays a key role in the band and every single player contributes to the great sound produced.
"We have a mix of men and women of all ages and abilities, that makes everyone feel welcome – and we also provide free tuition from top-class tutors."
Interested parties can contact the band through its Facebook page to find out more, or people can visit one of the practice sessions in Portsoy's Institute Hall on Mondays from 7.30-9.30pm.