The life-saving impact of the north-east's new helimed has already been demonstrated in its first week of work.
Scotland's Charity Air Ambulance's (SCAA) second aircraft began operations out of a base at Aberdeen International Airport at the end of last week.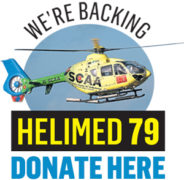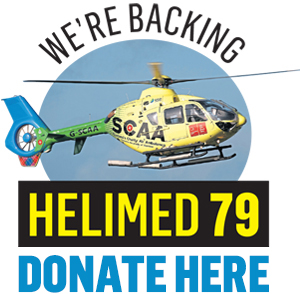 Already its crew has helped three seriously injured people in the north-east, vastly reducing the time taken for paramedics to reach them.
Tasked by the national Scottish Ambulance Service control room, SCAA's Aberdeen team were called into action on the very first day in the job.
A patient, suffering a medical emergency, was flown from the scene near Turriff to Aberdeen Royal Infirmary in just 15 minutes.
By road, the same journey might have taken three times as long.
The SCAA crew was called upon again the following day, flown in to treat a man involved in a crash on a road near Oldmeldrum on Saturday afternoon.
This time, due to the man's traumatic injuries, medical consultants who are based with the ScotStar emergency medical retrieval service at the airport were also on board.
The man, understood to have been involved in a motorcycle accident, was taken to hospital by road – but the helicopter allowed expert care to reach him much faster.
Lead paramedic with the Aberdeen-based SCAA unit, Ewan Littlejohn said: "There was a huge length of time saved at the Turriff job as the road transfer could have taken up to 50 minutes.
"And the patient certainly needed to get to the hospital quickly.
"The following day, the Oldmeldrum patient might have been taken to ARI by road – but to my mind our job is not getting people to hospital, it can be getting resources to them quickly too.
"Getting us to scene quickly by air, certainly with demands being placed on the division presently, is very helpful.
"They might not all come back to Aberdeen by air but we can be there to administer treatment quickly."
But the third job of the week – airlifting a patient suffering a medical emergency from Buckie – might best illustrate the impact SCAA's crew will have for those who need the best treatment, and fast, here in the north-east.
What would have been a near hour and a half journey to Aberdeen by road was reduced to only 20 minutes in Helimed 79 on Tuesday.
"That is so important when time really matters," Mr Littlejohn added.
When not treating patients, his crew's work is continuing to work away in isolation to set up their new base.
He said new equipment was still arriving, making the period feel "a bit like Christmas".
"We are all eager to get out there and fly, which is natural for a new team, but at the same time we don't want anyone to be seriously ill enough to need us.
"This lockdown has at least given us a little bubble of protection to find our feet and get set up."
---
Scotland's Charity Air Ambulance has made a huge impact since 2013, saving lives and preventing suffering. 
That is why the P&J campaigned successfully for SCAA's second helicopter to be based in our region. 
This is an emergency service that relies entirely on donations. 
Each call-out costs about £2,500 and SCAA needs P&J readers to help hit its £6million target and get things off to a successful start. 
So please do anything you can to raise those funds and show that We're Backing Helimed 79. 
---
Ways to donate to SCAA
Website: www.scaa.org.uk/donate
Text: Text 'SCAA' and the amount to 70085
Phone: 03001231111
Cheques: Made payable to 'SCAA' or 'Scotland's Charity Air Ambulance' and sent to: Scotland's Charity Air Ambulance (SCAA), The Control Tower, Perth Airport, Scone, PH2 6PL