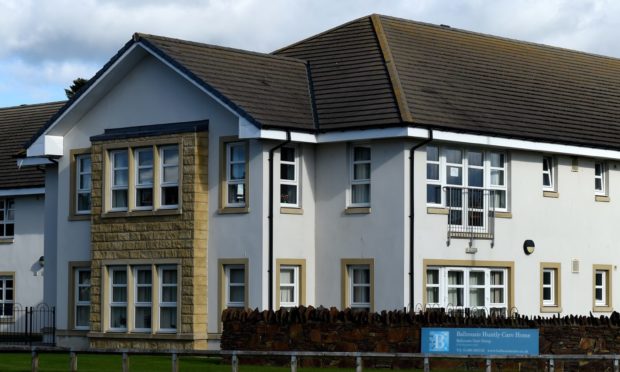 An Aberdeenshire care home has been criticised by regulators for introducing coronavirus risks by hosting a 12-person tea party during the pandemic.
The Care Inspectorate said the get-together from residents of different parts of Balhousie Huntly, alongside poor hygiene and social distancing, could have led to infections at the 51-person facility.
Representatives carried out an unannounced inspection of the premises on September 23, and have now graded its level of care and support as "weak".
Staff were observed failing to properly dispose of used tissues and to continue wearing gloves after helping residents, then touching other surfaces.
Issues were noted during mealtimes and inspectors said: "We saw that foods spilled at breakfast remained on the dining room floor until after the lunch service.
"Staff did not assist people to wash their hands before or after their meal."
Elsewhere soft furnishings including chairs were found to be stained, while side tables and mattresses appeared damaged, meaning they would be hard to clean thoroughly.
But the Care Inspectorate representatives said issues surrounding hygiene also extended to staff.
"Throughout the service there were posters prompting staff to wash their hands and how to do this effectively," the 12-page report said.
"However, we did not observe staff washing their hands frequently or when appropriate."
Managers were told to better heed social distancing rules.
Place settings at mealtimes were not adequately spaced out, while a tea party for residents also sparked concern.
Inspectors said: "The twelve people who attended a tea party lived in different areas of the home, and this did not support people socialising in a smaller bubble to reduce the
risks of cross-infection."
The care home was ordered to improve its infection control practices, including the use of PPE and hand hygiene, with a deadline of today.
This included how items are disposed of and where they are stocked in the facility.
It has also been given until the end of the month to make the latest health information and guidance more accessible to staff.
The home was criticised as staff practice was not being observed, meaning managers and staff may have been unaware of people straying from best practice.
A spokeswoman from operator Balhousie Care Group said the firm has been committed to following "the most rigorous infection control protocols".
She added: "The tea party was a planned event in our home's cafe area where social distancing was adhered to and all our residents were safe and able to enjoy the event within the safety of their home.
"Balhousie Huntly has remained Covid-19 free since the beginning of the pandemic and protecting the health and wellbeing of our residents is of huge importance to us.
"We take the Care Inspectorate's feedback very seriously and have been implementing the required improvements within the home.
"We are confident that we will have met all their requirements by the specified date and have been working collaboratively with the local authority and public health in order to ensure we continue to meet and exceed standards."