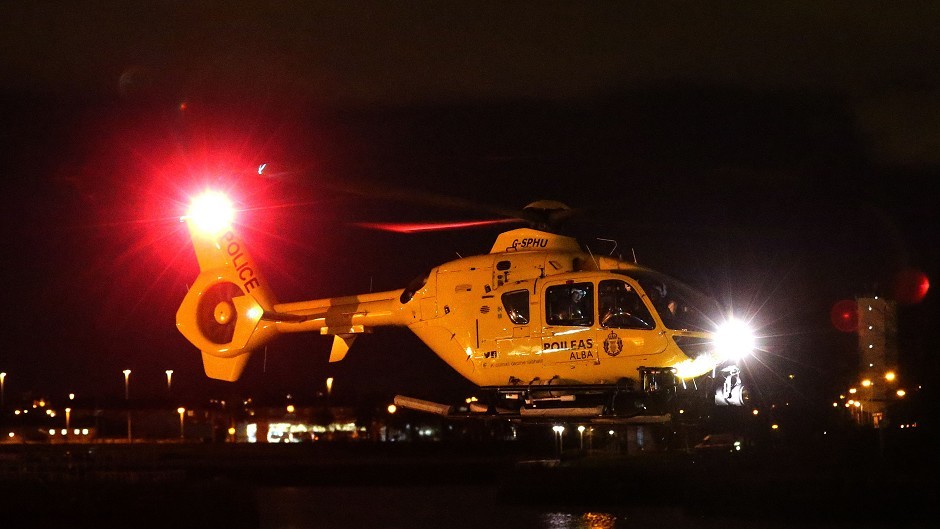 Police are no closer to finding missing Fraserburgh man Shaun Ritchie as the massive search operation enters its eighth day.
The 20-year-old vanished in a remote area of woodland near Strichen after a Halloween night out with friends.
His disappearance sparked a massive manhunt, with dozens of local people joining police search experts, divers, dog handlers and mountain rescue teams.
Investigators made a breakthrough on Thursday when clothing worn by Mr Ritchie on the night of his disappearance was discovered in woodland close to where he was last seen, in the early hours of Saturday, November 1.
But the trail appears to have gone cold.
Searchers were hampered by torrential rain and falling temperatures last week, but a mild weekend allowed dozens of Mr Ritchie's friends and family to rejoin the search effort.
Yesterday, more than 100 people were involved in the ground operation and a Police Scotland helicopter provided air support as the search moved north-west from the Greenburn area.
The search chopper was seen scouring a large area of ground between the A98 Fraserburgh to Banff road and the A981 Fraserburgh to New Deer road near Memsie.
Police are still treating the case as a missing person enquiry and have repeatedly said that – despite widespread speculation – there is no evidence of foul play.
Speaking on Friday, Inspector George Cordiner said he and his team believe Mr Ritchie may have developed hypothermia and removed his clothes while disorientated.
He said: "He may have taken shelter due to the conditions at that time of night. Although quite clear it would have been very cold.
"So if he's become hypothermic or if he's become disorientated then he might have been trying to find somewhere to warm up."
Last night, a police spokesman said: "Shaun is still missing and our enquiries are ongoing at this stage."
Earlier this week, Mr Ritchie's family described the days since he vanished as "a nightmare".
A family spokesman said: "With every passing day we're becoming more and more worried about Shaun."
Mr Ritchie was last seen wearing dark grey skinny jeans, a white T-shirt, a grey hooded top and brown trainers.
The search will continue today.