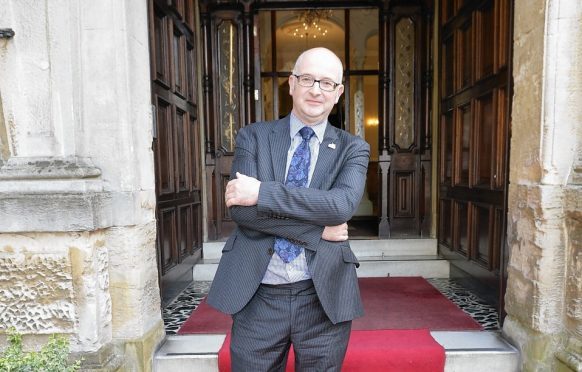 A regeneration tsar has been unveiled as the man tasked to lead the Aberdeen City Centre masterplan project.
Marc Cole has been offered the post of city centre director – a role especially created to deliver "investment, jobs and enhancing quality of life" as part of the local authority's multimillion-pound vision for the next 20 years.
Mr Cole – who has been praised in the past for how he led the regeneration of North East Lincolnshire in his time with the council – is currently based in York, where he is director of a consultancy business which prides itself on spearheading "local government transformation".
Last night, Mr Cole told the Press and Journal he was looking forward to the challenge ahead – and to getting to know the north-east a bit better.
He said: "I'm delighted to be taking up this post, and looking forward to the challenge.
"I don't know a huge amount about Aberdeen, but from what I have seen when I visited I was very impressed by.
"My first port of call will be to sit down and talk to the various stakeholders involved, and getting my feet under the table so we can move forward as quickly as possible."
Mr Cole, who lives just outside of York, said he was bringing "significant experience" to the job having worked on numerous similar schemes in the past.
He added: "I'll be commuting initially with a view to thinking about permanent relocation in due course."
In a message sent to council employees yesterday, chief executive Angela Scott said she was "pleased" to reveal that following a two-day assessment and formal interview last week, the council's appointment panel had agreed the preferred candidate.
"The normal pre-employment checks are currently underway ahead of the appointment being formally finalised, but in the meantime I can confirm that Marc Cole is delighted with the offer of the post," she said.
"Marc has both a background in local government and considerable experience of driving regeneration activity in a number of English towns and cities.
"The intention is that once all formalities have been completed, Marc will take up post with the Council early next month."
In an advert for the £103,031-a-year post, the council asked for candidates to be "diplomatic, determined and results oriented".
"You will relish this highly visible role, building on what we've achieved so far by delivering the best for the people of Aberdeen," it said.
An Aberdeen City Council spokesman said the selection process had been "rigorous".
"The appointment is subject to pre-employment checks which are currently ongoing," he added.
"The city centre director will provide leadership on all aspects of the city centre masterplan, an ambitious and exciting 25-year regeneration programme for the city.
"The new director will manage a small core team whilst working in partnership with a wide range of local and national partners to ensure each aspect of the masterplan is being successfully managed."