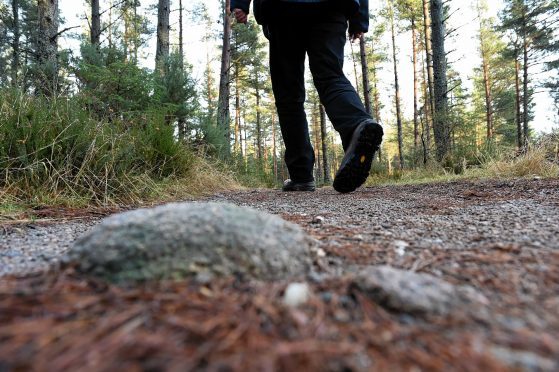 North-east councillors have agreed to pull out of further maintaining one of the region's most scenic walkways.
Aberdeenshire Council has completely withdrawn from the Gordon Way, nor will it fund the development of the route, due to budgetary constraints.
The local authority's coastal pathways network will also not be developed using council funds following yesterday's decision by its infrastructure services committee.
The committee also agreed it would no longer maintain 13 miles of the coastal network.
However, members of the committee and council officers have vowed to do all they can to seek outside funding for the pathways, having already entered into talks with the Huntly and District Development Trust for the Gordon Way.
The 12-mile walk starts at the Bennachie Centre and runs to Sluie. However, the council had harboured hopes of extending it from Inverurie to Huntly through Rhynie.
The cost of maintaining the Gordon Way is £9,486 per year, yet the local authority would have to spend as much as £2.42million to completely upgrade it along with the coastal network.
Currently, there are 35-miles of coastal paths within Aberdeenshire, 22 of which are maintained by the council.
The local authority's planning service manager, Maureen Corley, said the aims for the routes "in the context of the budget we have available cannot be accommodated".
She added: "Maintenance in the long term falls with the local authority. Funding for maintenance is an issue.
"The paths do offer a number of economic, social and health benefits, but there are concerns from an officer's point of view that we will be increasing annual maintenance costs. We need to look at alternative options."
She added funding might be able to be found to develop the route, but this would not deal with the "issue of funding maintenance very well".
Councillor Rob Merson said: "There is absolutely no point building new pathways when you can't maintain the ones we have got. We would all like to see other opportunities explored when they arrive."
Councillors also agreed to forward their concerns for the coastal path network to Scottish Natural Heritage.