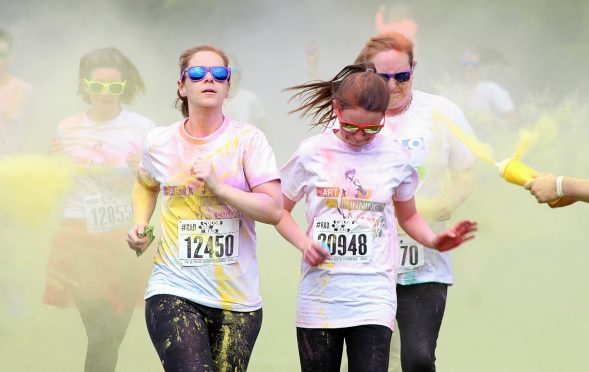 Thousands of runners brought a splash of colour to an Aberdeen park when they took part in a charity run at the weekend.
More than 3,400 runners took place in the Color Me Rad 5k event at Hazlehead Park.
The fun run, loosely based on Holi – the Hindu Festival of Colours – originated in the US and involves participants being pelted with paint bombs.
This is the second year the vibrant event has taken place in the north-east but a first for Hazlehead Park as last year's event took place at the Beach Esplanade.
The first wave of runners left the blocks at 10am, clad in pristine white shirts which were hit by a blaze of colour bombs, cannons and mortars, as they made their way around the course.
By the time they crossed the finish line, everyone was plastered in shades of blue, pink, purple and yellow paint.
Cash for Kids – which supports disabled and disadvantaged children and young people – was one of the charity partners for the event.
Charity manager Michelle Ferguson said all the funds donated would be spent helping to improve the lives of children living  locally in Aberdeen and Aberdeenshire.
She said the event had been a huge success and Hazlehead Park a great venue.
She added: "It all went brilliantly
"The weather was great and the venue worked really well for us.
"We also had a family run so there were children taking part and families taking part so it had a great atmosphere.
"It had a real family feel to it.
"It was perfect."
Glasgow and Edinburgh also hold their own version of the run, which is non-competitive and un-timed.