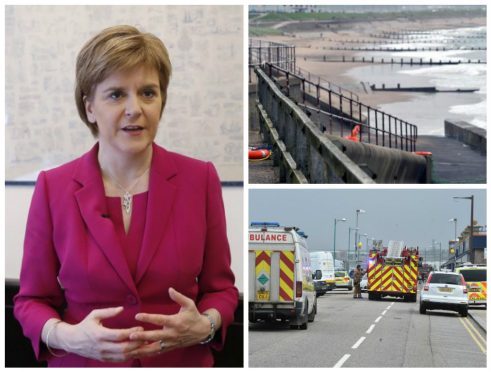 Touching tributes have been paid to a mother and her young son after getting into difficulty at sea.
It is understood that two brothers Lucas and Samuel Walker, aged six and 13, were paddling in the water by Aberdeen beach when they were swept away and their mother Julie, 37, was joined by others in a desperate bid to save them.
Police have confirmed that Julie Walker, and her son Lucas, 6, died following the incident.
Floral tributes have been laid at the site of the tragedy by members of the public.
Samuel Walker, a 25 year-old woman and 28 year-old man were also taken to hospital, where the young boy remains.
The woman and man have since been discharged.
Chief Superintendent Campbell Thomson, Police Scotland's North-east divisional commander, paid tribute to the heroism of the emergency services and public as they attempted to save the mum and her son.
He said: "This is a very tragic incident and our thoughts are with the Walker family at this sad and difficult time.
"Whilst officers continue to investigate the circumstances of the incident, it is clear heroic attempts were made to save Julie and Lucas by both on and off duty police officers, emergency service personnel and members of the public, facing treacherous sea conditions and high winds during their rescue bid.
"Their brave efforts cannot be overstated.
"I'd like to pay special tribute to Lucas's brother Samuel, who very bravely entered the water in an attempt to rescue his mother and brother.
"We are all very thankful Samuel is making a steady recovery in hospital.
"Police Scotland would like to thank all rescue personnel who assisted at the scene yesterday in addition to the many members of the public who offered assistance and support during the incident."
"Our seas can be extremely unforgiving – even during the summer months – with conditions changing rapidly.
"I would urge people to be extremely careful when near any body of water whether you're swimming, sailing or walking near the water's edge."
Scottish First Minister Nicola Sturgeon was one of the many to spare a thought for those affected by the horrific tragedy.
She said in a Tweet: "Tragic, heartbreaking news. My thoughts are with all those involved."
Emergency services had been quick to arrive at the scene on Saturday evening to join civilians in the valiant rescue effort.
Staff from the police, HM Coastguard, RNLI, Scottish Fire and Rescue and Ambulance service were called to the scene at around 4.45pm on Saturday night.
Witness Claire Lewtas regrets not telling them how dangerous what they were doing was.
She said: "They were letting the waves come over the top of their heads, there was a woman with them either videoing it or taking pictures.
"I was going to go down and tell her it was unsafe but I didn't want to interfere. I only wish I had said something."
Martin Vicca, owner of the nearby Inversnecky Cafe, said he could tragically hear Samuel trying to get a man back into the water to save his little brother.
He said: "The tide was all the way in and at that point it would be reaching six or seven feet up the sea wall.
"The first police car that arrived tore down the slope and straight into the water. It was not a question of playing around trying to be safe, waiting for lifeboats or whatever.
"Members of the public were helping as much as they could. I spoke to someone who actually helped pull one of the kids from the water. He was asking the man to try and get to his brother."
Police were yesterday(Sun) spotted searching on the beach with metal detectors, possibly looking for a phone which Julie had been using to film her boys in the water.
The tragedy has hit the local community hard with many taking to social media to share their sympathy for the family.
Larraine Ritchie said on Facebook: "The North Sea can be so cruel my heart goes out to the family and mother and son."
Lesley Macmillan said on Facebook: " Thoughts are with there loved ones at this really difficult time."
Former Aberdeen FC goalkeeper Jamie Langfield said on Twitter: "Thoughts and prayers go out to the woman and child's family who lost there lives at Aberdeen beach last night. Devastating news."