Aberdeen council chiefs threw down the gauntlet to the Scottish Government last night pledging £3million to offset crippling business rates rises – but only if Holyrood matches them.
A heated meeting of the authority's finance committee also agreed to invite finance secretary Derek Mackay to an "urgent meeting" on the increases.
And the local authority's chief executive was instructed to write to him calling for a new scheme which would mean rates didn't rise higher than current levels.
But opposition parties rounded on the Labour-led administration saying the move was a "PR stunt" and accused it of not putting forward any sort of scheme during council budget negotiations less than a month ago.
The SNP group tabled an amendment for a £4million relief scheme targeting the hospitality, retail and manufacturing sectors.
Changes to rateable value (RV), due in April, have provoked outrage across the north and north-east, with many traders facing rises of up to 250% – prompting warnings of job losses and closures.
There has been a particular backlash in the north-east, as the proposed increases are based on property values in 2015 – before the full effects of the oil and gas downturn were felt.
It's estimated around £212million will be collected in business rates from the city but it's as yet unknown what the cut to the Scottish government grant will be as a result.
Last month the finance secretary bowed to weeks of mounting pressure from business leaders and politicians and announced a national relief package including a 12.5% cap on any increases in the hospitality sector and special measures for offices in the city and shire.
It's estimated that Granite City businesses will benefit from around £7.5million of relief as a result.
Under the agreed motion the council has "agreed to set aside £3million to a local scheme provided it is backed by match funding… by the Scottish Government."
Finance vice convener Alan Donnelly said that Holyrood should look to use some of the £350million given by Chancellor Philip Hammond to the Scottish Government to offset the rises.
And council leader Jenny Laing reminded members that Aberdeen had been the lowest funded council per head in Scotland for the past ten years, adding they had received little information about how Mr Mackay's scheme would work in practice.
Ross Thomson, Conservative councillor and north-east MSP said: "Aberdeen City Council is the lowest funded local authority in Scotland, so is restricted in what support can be offered to businesses.
"We still need the Scottish Government to do more as the current SNP relief proposal is simply a one-year sticking plaster and won't solve the problem."
Liberal Democrat group leader Ian Yuill supported the administration saying the scheme put forward by Mr Mackay didn't go "far enough".
He added: "Sadly many businesses are struggling to get by and even a modest rise could be enough to push them over the edge."
But SNP group leader Stephen Flynn called for councillors to "act now" arguing that his £4million package could begin helping businesses almost immediately.
He said: "The administration had every opportunity to outline a comprehensive rates relief system at the budget and they didn't allocate a single penny.
"The administration clearly haven't listened – all they have offered businesses is crocodile tears and a PR stunt."
The motion was passed by 11 votes to six.
A Scottish Government spokesman said: "On top of our business rates package, which will deliver an overall tax cut of £155million next year, we have listened to business and are now providing further targeted support for particular sectors and specifically for Aberdeen and Aberdeenshire where it is most needed.
"The total rates relief package is now worth over £660million, and councils are empowered to apply further reductions to address any local issues as they see fit."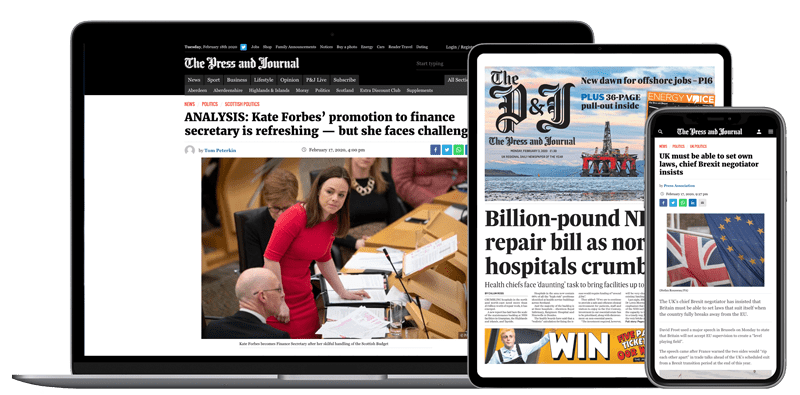 Help support quality local journalism … become a digital subscriber to The Press and Journal
For as little as £5.99 a month you can access all of our content, including Premium articles.
Subscribe