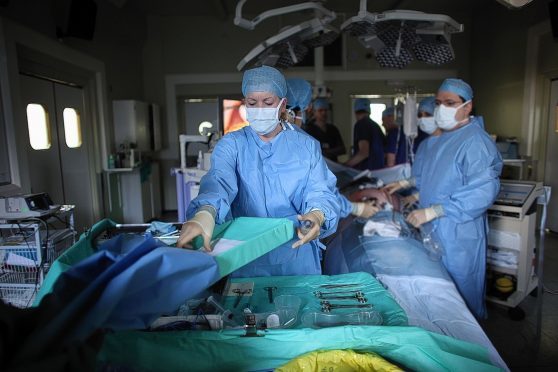 Shock new figures reveal NHS Grampian's spending on agency theatre nursing staff has soared from zero to more than £1million in the past five years.
The figures, obtained by the Press and Journal, come just months after it emerged the health board had been forced to cancel scores of operations due to staffing issues. In 2012-13, the board had spent no money on hiring agency nurses for its theatres.
But by 2014-15, this had risen to more than £178,000, and by 16-17 the cost had rocketed to £1million.
Last night, north-east politicians said the "ballooning bill" was a major cause for concern.
Alexander Burnett, Scottish Conservative MSP for Aberdeenshire West, said: "While the SNP obsess over an unwanted independence referendum, the failings in the Scottish health service are becoming clearer by the day.
"These figures show a ballooning bill for agency nurses, which is another symptom of poor workforce planning from the Scottish Government.
"NHS Grampian, like many other health boards, has clearly become overly reliant on agency staff to plug gaps in a workforce that is struggling to keep up with demand for services."
And Labour MSP Lewis Macdonald urged the government to step in to ensure the board was not being forced to use vital funds to cover gaps in frontline staff.
Mr Macdonald said: "NHS Grampian is working hard at the moment to reduce agency nursing costs to ensure its not diverting its resources away from the service.
"The Scottish Government should support them through more funding for permanent staff and also more support for nurses and medical staff to be trained here because, as we know, if you do your training somewhere you are more likely to stay there."
At the beginning of the year it emerged that the board had been forced to cancel 160 operations at Aberdeen Royal Infirmary and Woodend Hospital between November and January.
Health bosses blamed staffing shortages and a recruitment crisis but insisted the procedures would be rescheduled. NHS Grampian has said agency staff are essential in coping with shortages in frontline staff.
A spokeswoman for the health board said: "Our primary aim is to keep services working safely and effectively. Where gaps emerge in our core staff complement we will look to our nurse bank; these are employees of NHS Grampian.
"If we are unable to cover gaps from the bank we will use agency staff. Both bank and agency staff are recruited according to robust standards."
She said the board currently has vacancies in the theatre nursing team which they have found difficult to fill due to the requirement to train staff in what the believe is a "complex" area of nursing.
The spokeswoman added: "We recruited seven newly qualified practitioners earlier this year and they are now participating in the rota.
"As part of our longer term planning we are investing in a band four assistant perioperative practitioner development programme. We are also continuing to advertise vacancies in this team and would encourage potential applicants to get in touch and learn more about the roles available."
A Scottish Government spokesman said: "A record number of people work in the NHS in Scotland and under this Government, staffing levels in NHS Grampian have increased by 8.2%, to over 12,100 whole time equivalent.
"Any fluctuations in vacancies in NHS Grampian are as a result of our efforts to expand capacity by recruiting even more staff.
"Agency staff in NHS Scotland make up only 0.4% of overall staffing numbers and the amount of money spent on agency nurses in 2015-16 and midwives is 11.3% lower than it was a decade ago.
"Last year we launched a new initiative, in partnership with NHS National Services Scotland, to drive down the cost and use of all temporary agency staff."