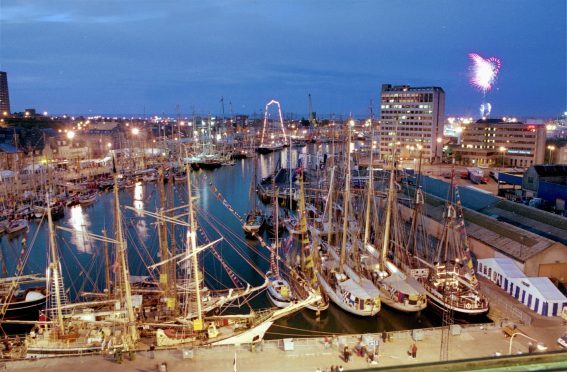 Plans to bring the Tall Ships race back to Aberdeen have been sunk after harbour officials ruled out the idea.
The council's finance committee had agreed to set aside £500,000 every year for the next four years in order to be able to stage the economy-boosting event in 2022.
They planned to build up the £2million on the proviso that businesses would combine to pledge an extra £1million to cover costs.
But local authority officers have now judged that the scheme is "not viable" and urged elected members to abandon it.
A report states that the harbour board is unable to support the plans, which would conflict with the creation of the new south harbour.
Port officials advised that the Tall Ships extravaganza would "significantly interrupt harbour operations".
The council's city promotions and events manager, Dawn Schultz, also blamed changes to the port's layout since the large boats last docked there in 1997.
She wrote: "Quaysides and cargo sheds previously used to accommodate Tall Ships are now leased to third parties.
"Interruption to business, and loss of revenue, represented by the Tall Ships is significant and the 2022 date would be at a critical point in terms of efforts to secure business for the new south harbour.
"Given that the Harbour Board would not support a bid to host the Tall Ships Race in 2022, no further work has been undertaken on the business case."
Liberal Democrat group leader, Ian Yuill, suggested more work should have been done prior to the previous ruling administration launching the ploy.
He said: "The Labour and Conservative councillors made this announcement without actually checking whether the city would be able to host the event.
"For the last five years we have seen these parties more interested in headlines than in the interests of citizens and this seems set to continue."
Last night, finance convenor Douglas Lumsden insisted that the plans had merely been placed on hold.
He said: "It is a disappointment but it remains something we can look at in the future, once the new harbour is in place.
"It was only once we started talking to the harbour board that we had to rule it out for 2022."
About 500,000 visitors crowded the harbour to welcome the vessels to Aberdeen in 1997, boosting the local economy by £13million.