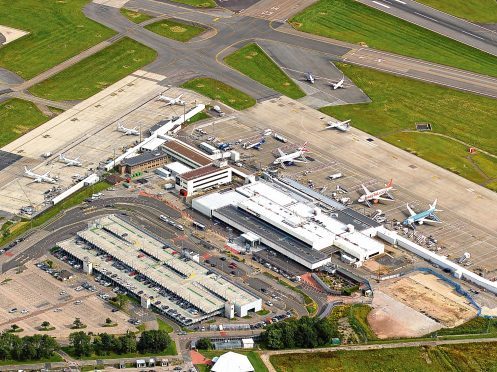 Aberdeen airport should get a taste of the public money being pumped into rival transport hubs, the Scottish Conservatives said after finding it was getting no help.
The party said it was shocked by figures showing the Scottish government ploughed nearly £50million of public money into airports in the past year – but none of it went to the Granite City.
Statistics provided in response to a freedom of information request showed that the troubled Prestwick Airport has received £9.6million for 2016/17.
Meanwhile, the government has also provided £38million to the publicly-owned Highlands and Islands Airport (HIAL) over the past year.
Aberdeen and Edinburgh airports received nothing in terms of public loans, subsidies or grants.
The troubled Prestwick Airport was bought by the Scottish Government for £1 in 2013 to save it from closure. It has been reported that a further £9.4million has been set aside in the 2017/18 budget, bringing the total amount of taxpayers' money tied up in the Ayrshire airport to £40million.
Andrew Bowie, Conservative MP for West Aberdeenshire and Kincardine, said: "People in the north-east will be shocked at the level of public money that is being poured into Prestwick at a time when Aberdeen Airport receives nothing in government support.
"It is difficult to see how nearly £40million in 'loans' to Prestwick will ever be paid back.
"While other areas receive enormous support, Aberdeen has clearly had to look at purely commercial ways of ensuring that it remains attractive in a challenging environment due to the oil downturn.
"It is a credit to the management team that they have been able to weather the storm and are now reporting improved passenger numbers with another new route to Malta announced this week.
However, the Scottish Government should be doing what it can to help at what remains a difficult time for the local economy here in the north-east."
A Transport Scotland spokesman said the comparison was unfair.
"Aberdeen Airport is successful in its own right, with a return to growth showing that it can have confidence in its future," he said.
"This comparison does not make the proper distinction between publicly and privately owned airports. HIAL provides airport infrastructure in the Highlands and Islands to ensure that our remotest communities can continue to access services that cannot be provided in their areas.
"The funding given to Glasgow Prestwick Airport is supporting employment that is vital to the local economy.
"As we made very clear at the start of the acquisition process, our investment in the airport is on a commercial basis in the form of loan funding. This attracts a market rate of interest in line with state aid rules."