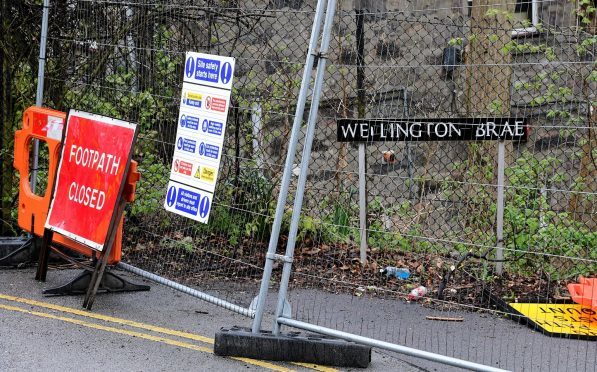 Council co-leader Jenny Laing has said the authority had shown "clear failure" on the Wellington Brae repair scandal on the eve of a crunch meeting into the issue.
The authority's audit committee meets today to discuss the findings of an internal review into how nearly £200,000 of public money was spent on repairs to a wall and cycle path near former finance convener Willie Young's home without ever being sent to a committee for scrutiny.
Willie Young: 'I'm in the clear over wallgate… And now I might sue'
The long-awaited probe, named Operation Arthur by the council's in-house investigations team, found a litany of errors by officials – including multiple missed opportunities to seek formal approval from elected representatives and a failure to keep any records of the process.
The fiasco – dubbed "wallgate"– has been referred up to national watchdog Audit Scotland.
Council officers approached Mr Young for consent to begin the works at Wellington Brae near his home, funded by cycling charity Sustrans.
But it later emerged the land was actually owned by his father after Mr Young disposed of it more than 20 years ago.
When the situation was first revealed in April former SNP councillor Graham Dickson had called for an external investigation.
Mrs Laing, who led the Labour group which ran the council at the time of the failings, said: "The Wellington Brae project was never brought to the attention of members which is a clear failing as if it had been reported to committee, I am confident correct ownership of the land would have been picked up much sooner.
"The SNP previously had doubts that the council could conduct an independent probe and called for external investigators to be called in to carry out the investigation.
"In (Mr Flynn's) role as convener of audit and scrutiny I therefore look forward to him confirming whether he now accepts this report from senior officers and its findings or if he still believes external investigators should be called in."
Mr Flynn said that now the report was being sent to Audit Scotland, outside investigators were not required.
He said: "I have been clear from the outset that the people of Aberdeen deserve transparency and it is disappointing that any elected member would consider that this is too much to ask for."
Mr Young added: "Should I get an apology from the council and former Councillor Dickson who made these accusations against me then I will consider it the end of the matter.
"Otherwise I will look to progress matters with my solicitors."