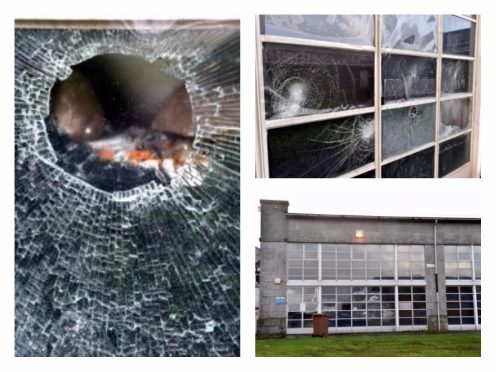 A search has been launched for the "mindless" vandals who targeted an Aberdeen school and caused a substantial damage to the building.
Early on Saturday, 22 windows were broken at Tullos Primary in Girdleness Road, Torry.
Police subsequently confirmed that a number of items were also found "strewn" across the playground.
Constable Andy McNally, of the Torry Community Policing Team, said: "Vandalism to a school in particular is completely unacceptable.
"The cost of repair in this case will be significant and it will impact upon pupils, parents and school staff until such repairs can be made.
"This was a mindless act.
"I particularly appeal to the parents of young people in the area to be aware of what their children are doing when out at night and to reinforce the consequences of such acts upon the community and themselves."
The incident was condemned by local politicians across the spectrum yesterday.
Aberdeen City Council's education convener, John Wheeler, said: "I am extremely disappointed to learn that Tullos Primary School has been vandalised.
"It is very upsetting for the children who attend the school and for staff, parents and the wider community.
"Council staff will assess the damage and determine the cost of repairs in due course."
SNP councillor for Torry, Catriona Mackenzie, added: "It is really disappointing to see this kind of behaviour in our community.
"It shows a lack of consideration for the children who should be able to feel safe in this environment.
"Anyone who has any information should come forward to the police as soon as they can.
"I hope that those responsible will realise the recklessness of their actions."
Scottish Conservative ward councillor Alan Donnelly responded: "It is a disgrace.
"I hope some neighbours saw what happened and can give as much information as possible to the police.
"This wanton vandalism is not on, especially at an educational establishment.
"The school will have to be cleaned up, and could disrupt classes if they have to move students."
"We must find out who it was. They need to be caught and made aware of the damage they have done.
"This behaviour cannot be tolerated."
Anyone with information about the vandalism is asked to contact police on 101, quoting incident 0239 of 30/09.