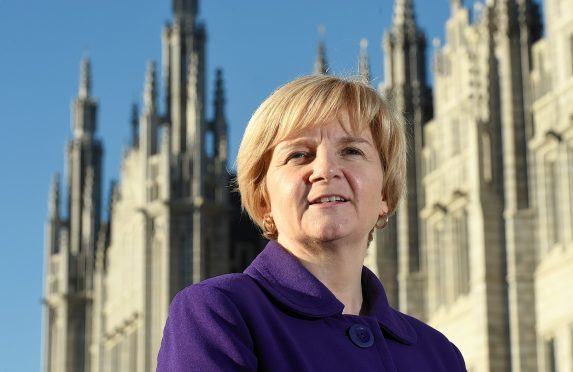 Council chiefs in Aberdeen are steeling themselves for an "economic Armageddon" amid fears up to £35million could be cut from its funding package today.
Economic analysis carried out by officers at Aberdeen City Council suggest as much as 5% of the authority's annual budget could be slashed as a result of the Scottish Government's budget.
And last night, council co-leader Jenny Laing challenged First Minister Nicola Sturgeon to visit the Granite City to see the "destruction" for herself.
Mrs Laing warned that increasing cuts to the city council – the lowest funded per head in Scotland – could leave the authority as a "lame duck" only able to deliver statutory services like education and social care.
But the Scottish Government dismissed the suggestion and pointed to hundreds of millions of pounds of commitments from Holyrood to the north-east in coming years.
The council has already began the process of installing a new "target operating model", which aims to cut £125million in the next five years through the likes of closing physical facilities and moving services online.
But there has been criticism over a lack of detail in the plan and a potential cull of the council's 8,500 strong workforce.
Mrs Laing said that if the expected cuts in Finance Secretary Derek Mackay's budget were to come to pass today, then services like bin collections, road repairs and council house maintenance could also be in the firing line.
She said: "This city in particular is almost certainly heading for economic Armageddon under the SNP Government in Edinburgh. The 5%cut that we are bracing ourselves for is something we have never seen before.
"Communities are being devastated all over the country but the SNP appears to have a special dislike for Aberdeen and we continue to suffer terribly as a result.
"We remain the lowest funded council in Scotland and we are bracing ourselves for another brutal budget cut, possibly as high as £35million.
"I would like to invite Nicola Sturgeon to Aberdeen so she can see for herself how destructive her programme of systematic and savage budgets cuts has been on the people here.
"It's less than two weeks till Christmas and Derek Mackay is about to drop a budget bomb on the people of Aberdeen which will see million of pounds stripped from vital services."
A Scottish Government spokesman said: "We have treated local government very fairly, despite the cuts to the Scottish budget from the UK Government.
"The 2017/18 local government finance settlement means councils have an extra £383 million, or 3.7%, in support of local services compared to 2016 17.
"In addition we are investing £125million as part of the Aberdeen City Region Deal, estimated to create 3,300 new jobs – and a further £254million of additional Scottish Government support for key infrastructure in the north-east."
"We will publish a balanced package of tax and spending proposals as part of the draft budget on December 14."