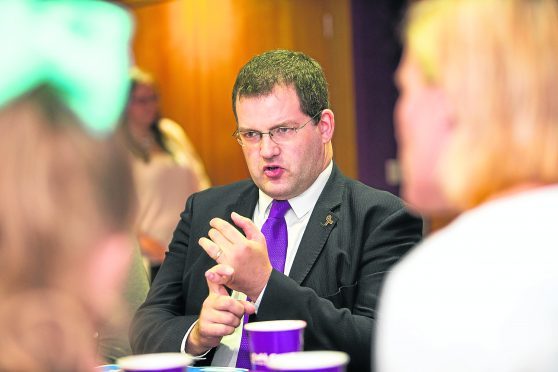 First Minister Nicola Sturgeon has refused to put a timescale on the investigation into suspended Aberdeen Donside MSP Mark McDonald.
The SNP leader said she would not provide a "running commentary" on the probe into the conduct of the former early years minister because doing so might discourage women from reporting harassment allegations in the future.
Mark McDonald: 'For my apology to mean anything, I must change my behaviour'
Mr McDonald quit the Scottish Government in November after it emerged that a complaint had been made about his behaviour.
The Press and Journal later revealed that he had sent a text message to a woman which made reference to a sex act.
The woman said she complained about Mr McDonald's behaviour because "people have to change".
Ms Sturgeon initially backed the city MSP to remain at Holyrood but the 37-year-old was subsequently suspended from the SNP and the parliamentary group when it emerged that a second woman had complained about his conduct.
Asked about the inquiry in a BBC radio interview yesterday, Ms Sturgeon said: "That investigation is ongoing. In fairness, both to Mark McDonald and perhaps even more importantly to women who in these situations bring forward concerns, I'm not going to get into detail while that investigation is ongoing.
"I think it is important that concerns and complaints, when they are raised, are treated very, very seriously, but also that due process is followed, and that's what the SNP is doing."
The first minister said she did not want to put an artificial timescale on the investigation, which was launched on November 16 following the second complaint.
"When specific allegations are made about specific individuals, it's important that due process and, while an investigation is ongoing, appropriate confidentiality, is respected," she said.
"I don't think – and I believe this point very, very strongly – I don't think we will encourage women to come forward and raise issues like this if women then think there's going to be a running commentary as investigations are undertaken."
Mr McDonald has not attended any Holyrood debates since his suspension, and the former Aberdeen councillor is listed as an "independent" on the Scottish Parliament website.