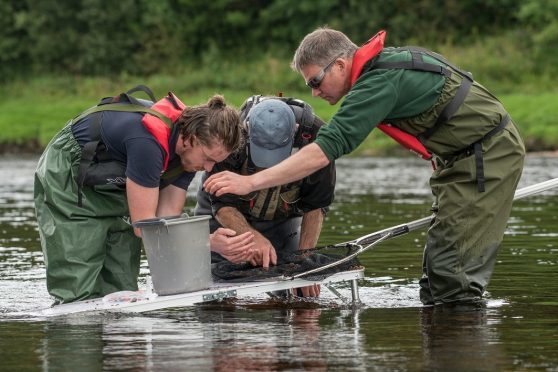 It hasn't been plain sailing on Deeside in recent years.
But a spirit of positivity surrounds the opening of the 2018 salmon fishing season on the River Dee, which was celebrated yesterday with a ceremony at Banchory Fishings and Banchory Lodge Hotel.
Those who work in and around the water have had numerous challenges to tackle since the devastation wrought by Storm Frank in the region two years ago.
Yet Mark Bilsby, the river director of the Dee District Salmon Fishery Board and River Dee Trust, is confident they are moving in the right direction.
He said: "We are approaching the new season with renewed optimism. Last season was an improvement on previous years and there were a lot more fish in the river.
"We don't know what 2018 will bring, but what we do know is that the river is recovering steadily.
"Fry and parr [young salmon] numbers are back up where they were before Storm Frank, which is exciting news.
"We also had the best spawning season on the river for five years. These are all indicators that the river is in good health.
"A big part of our work this year will be understanding how best to look after these young fish through the ongoing tagging and tracking of our young salmon as they begin their journey down the river to the open sea.
"The early part of their journey has been shown to result in high losses of these young fish, probably due to predation, and we need to work with the Scottish Government and its agencies to take the necessary steps to look after them and the community that depends upon them."
Andrew Flitcroft, the editor of Trout & Salmon magazine will be the guest of honour this morning and will formally open the fishing with a traditional whisky toast to the river and the first cast.
Carol Fowler, the director of Banchory Lodge, added; "We are delighted to be hosting the opening ceremony again this year.
"Banchory Lodge has strong ties to the river and this is the third year we have helped launch the new season. The welcome on Deeside is second to none and we look forward to greeting new visitors and returning rods from all over the world. "The fishing on the river generates millions for the local economy and community, so we are delighted to see how well the Dee is recovering following Storm Frank. "