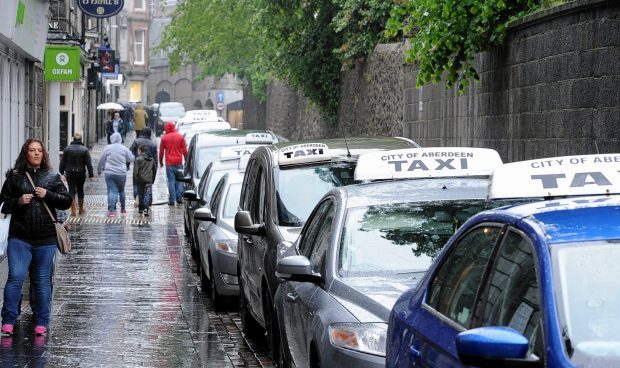 A controversial proposal to make all taxis in Aberdeen wheelchair accessible has been ditched by council chiefs for at least five years.
A legal ruling dating back to 1994 committed the authority to implementing the policy by last summer.
But the decision was deferred last year so a consultation with the taxi trade, members of the public and disabled groups could be carried out.
The consultation found that the 247 who gave their views would prefer to have some form of mixed fleet, with only 49 people in favour of full accessibility vehicles.
Concerns were raised that some disabled people struggled to get into wheelchair approved taxis and that taxi drivers could be left with a huge bill to buy new vehicles.
Currently 46% of taxis are wheelchair accessible.
But council officers had warned yesterday's licensing committee that if they did not implement a policy to ensure all the city's rank taxis were wheelchair accessible then they could face a legal challenge.
A report to councillors said that Dundee council was "facing litigation" for its mixed fleet policy.
It added: "As has been said before, simple preference for a type of vehicle cannot outweigh the authority's legal responsibilities in terms of the equality legislation.
"There are considerable legal and financial implications involved in adopting a mixed fleet, along with procedural issues that would involve considerable administrative oversight."
Tommy Campbell, the north-east regional representative for Unite – the union representing many of the city's drivers – argued that the authority could also face legal challenges if they pushed forward with the 100% policy as it would mean some disabled people would struggle to get access to taxis.
Councillors then unanimously decided to temporarily abandon the proposal deciding to review the matter again in 2022. If approved then, the policy could be in place the following year.
Committee convener John Reynolds, who himself ran a taxi business in England many years ago, described the debate as between "legality and common sense".
Airyhall, Broomhill and Garthdee councillor Gordon Townson added: "I think with the results of this consultation we have to listen to the people."
Following the meeting yesterday, Tommy Campbell said it was the best decision.
He said: "We believe that common sense has prevailed for all people in the city."