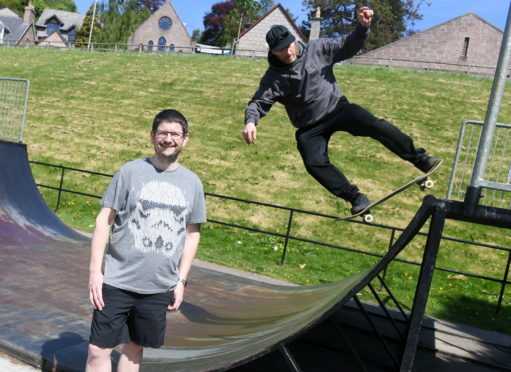 Plans for a new skatepark in an Aberdeenshire community are now officially airborne, after councillors agreed to move forward with a land lease for the project.
Aberdeenshire Council's Marr area committee discussed the future of skatepark proposals in Banchory's Bellfield Park at their meeting yesterday.
The proposals, put forward by the Banchory Skatepark Group, include improving upon the existing ramps and equipment to create an "all out" park.
Last year, Aberdeenshire Council approved a 25-year lease to allow the skatepark group to acquire grant funding to help revamp the park.
However, as the wider park is part of common good land, the council will be required to petition the courts for permission to expand the skatepark.
Yesterday's, Marr area committee members agreed to move forward with that petition.
Ahead of the move to seek approval from the courts, Aberdeenshire Council carried out a community consultation to demonstrate the public support offered to the proposals.
Of the 41 representations the authority received, only two people raised concerns, with 39 others saying they back the skatepark project.
If the courts ultimately approve the lease of the land, the skatepark group will then be required to go through the standard planning process.
At yesterday's meeting, Banchory and Mid-Deeside councillor Ann Ross invited committee chairwoman Moira Ingleby, councillor for Huntly, Strathbogie and Howe of Alford, to come and visit the current skatepark and see it for herself.
Ms Ingleby joked that she wasn't quite so keen on taking up the sport of skateboarding.