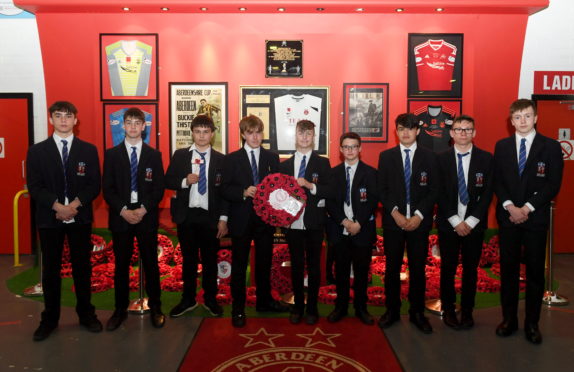 A group of Aberdeen teenagers will travel abroad to lay a wreath in honour of the young Dons players who died during World War I.
The youngsters from Aberdeen Grammar School will pay a poignant visit to the Great War battlefields in northern France and Belgium in two weeks as part of a history project.
Aberdeen FC lost 16 men at the outset of the conflict– eight of them players and eight club officials.
They include former captain Alex Halkett, and reserve players Andrew Hamilton and Allan Lawrie.
Lawrie and Hamilton – both privates in the British Army – are commemorated at the Menin Gate at Ypres.
A former club doctor and Aberdeen Grammar alumnus, Joseph Ellis Milne, is buried at Lijssenthoek Military Cemetery.
The third year students will visit both sites on their trip.
Student teacher Jessica Mellis said: "The pupils were shocked by the war's impact – and not just on the players that were called up to serve.
"They were surprised at the effect it had on the club, and how the funding for football and the player numbers fell so dramatically."
The pupils contacted Aberdeen FC's Heritage Trust ahead of their trip to find out more about those linked with the club who were killed in the conflict.
The club invited them to its war memorial at Pittodrie and presented them a wreath to lay on behalf of all involved with Aberdeen FC.
Miss Mellis added: "Our third year has a lot of big Aberdeen fans, so knowing the club as it is today helped to humanise World War I.
"The pupils imagined today's players being involved in a massive conflict like the First World War.
"Their connection to the football club helps them understand the scale of what happened more than 100 years ago.
"The players were very similar people which helped link the past and present, and I think this has definitely sparked an interest in local history in a lot of them."
The Menin Gate Memorial to the Missing is dedicated to the British and Commonwealth soldiers who were killed in the Ypres Salient of World War I and whose graves are unknown.
Lijssenthoek Military Cemetery is the second largest cemetery for Commonwealth forces in Belgium and contains 10,785 plots.