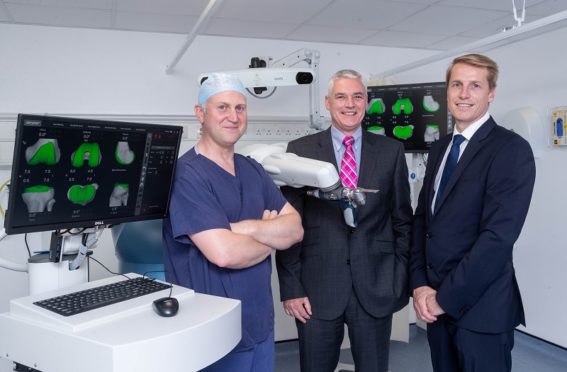 Located in the west end of Aberdeen, Albyn Hospital is the only independent hospital serving Grampian and the North of Scotland.
It was established as an independent hospital in 1955 by The Order of St John where 307 operations were performed that year. Thereafter it changed its name from St Johns to Albyn Hospital in 1995, before becoming part BMI Healthcare in 2002.
Fast forward to the present day, the hospital now sees an average of 150 outpatient visits and 26 surgical procedures performed daily, with over 150 specialist consultants holding practising privileges.
The hospital has worked hard to build up its resources to enable a wide range of procedures to be undertaken, ranging from routine investigations to complex surgery.
Orthopaedics
The level of expertise and technologies provided at Albyn makes the hospital a centre of excellence and innovation within the field of Orthopaedics.
Innovations such as robotic arm assisted hip and knee replacement and bespoke knee implants can offer patients a personalised surgical treatment plan, with the aim of less post-operative pain and quicker recovery times.
The hospital's strength lies in the multi-disciplinary approach taken throughout the patient's journey, with close working between the orthopaedic consultants and the team of chartered physiotherapists, radiographers and nurses.
The wide-ranging expertise of the consultants can offer patients treatments and procedures such as upper limb, spinal, hip, knee and complex foot and ankle surgeries.
Mr Robert Duthie, consultant orthopaedic surgeon, who offers robotic assisted hip and knee replacements stated: "The use of Mako® robotic assisted surgery will revolutionise how we undertake hip and knee replacements with significant improvements in  patient outcomes."
Mr James Bidwell, consultant orthopaedic surgeon who offers bespoke knee implants, commented on the technology: "We have seen excellent results and my patients and I are equally happy with the performance of the knees after surgery.
"It is good to see patients return to a more natural range of movement in the knee and see them get back to day-to-day activities more quickly."
By offering these technologies, the hospital is able to provide patients with a choice of treatment options to suit their lifestyle.
Ophthalmology
Albyn's ophthalmology service sets itself apart from other eye care providers in the region by delivering a full hospital-based care programme.
Backed by a team of consultant ophthalmologists, the hospital can offer a range of specialist services from cataract surgery, glaucoma and medical retinal management to corneal transplants and oculoplastics.
One patient, George Morris, spoke about the difference a corneal transplant has made to his sight.
He said: "The return of intense colour and clarity in my vision changed my life and I will be eternally grateful to the donor and the surgeon, Mr Reddy for this opportunity."
The consultant ophthalmologists understand the importance of providing a personalised service to their patients and a combination of their expertise and a dedicated hospital team helps to achieve this.
Gastroenterology
Whether patients need an investigation or ongoing management, the specialist team of consultant gastroenterologists can help with all gastrointestinal related issues from oesophagus, stomach, small intestine, gallbladder and liver disorders.
The hospital recognises the importance of accessing services swiftly and has recently developed a Fast Access Bowel Screening Service for individuals who have concerns about bowel cancer and related conditions.
This service is led by experienced bowel screening consultants who will recommend a personalised treatment plan following a diagnostic colonoscopy.
Consultant gastroenterologist, Dr Umesh Basavaraju explained: "Timely bowel cancer screening helps in saving lives by early diagnosis of polyps and cancer.  If diagnosed early, up to 90% of bowel cancer can be successfully treated."
General Surgery
General surgery is a wide-ranging service that focuses mainly on the abdominal area.
Albyn's team of consultant general surgeons help improve the quality of life of patients experiencing symptoms from a wide range of conditions such as hernia,  gallstones, colorectal conditions, obesity, liver and pancreatic disorders.
Health Services that can cater for the Oil and Gas industry
This department takes a proactive and complete approach to their client's health and can offer a range of services from OGUK medicals, GP appointments, travel health clinics, health assessments and women's health services.
The hospital can also offer quick access to further diagnostic tests and treatment, through the wider network of consultants and facilities within the hospital.
This department aims to provide their clients with a swift and comprehensive service all under  one roof.
Oncology
The hospital has provided an oncology service since 2010 and has seen this evolve greatly to a service that now provides a full care pathway for breast cancer patients. In the near future, it is expected to expand its capabilities to treat colorectal cancers.
Being able to provide a patient-centred treatment plan along with a wide range of systemic anti-cancer treatments, some of which can only be accessed privately, is extremely important to the hospital.
Over the years Albyn has built up a team of specialist nurses, complimentary therapists and counsellors who are there to guide the patients and their relatives during what can be a stressful time in their life.
Sherry Ringrose, who is currently undergoing treatment at the hospital, offered her opinion on her experience.
She said: "Having the opportunity to receive my treatment through a person-centred approach makes such a difference and I am deeply grateful to Dr Sharma, consultant oncologist, and Claire O'Brien the specialist nurse for providing this for me."
External Networks
The hospital appreciates the importance of working alongside the local community and supporting local organisations is an important part of Albyn's ethos.
In the last two years, various activities have helped to raise awareness and funds of over £10,000 for local charities like Charlie House and Aberdeen Cyrenians, as well as a variety of other medical related charities like Macmillan.
Without organisations such as Robert Gordon's University the hospital would not be able to recruit the skilled workforce that it requires, therefore the hospital supports student radiographers, nurses and physiotherapists by providing experience throughout their training.
The hospital's vision is to extend this support to Aberdeen University and their medical students by offering elective placements, which could provide valuable research opportunities.
Accessing private healthcare
Albyn Hospital is part of BMI Healthcare, Britain's largest provider of independent healthcare. Patients can access their facilities through private medical insurance or by paying for themselves.
BMI Healthcare has a strong relationship with all major insurance companies, allowing individuals who have private medical insurance to access Albyn with ease.
Those who choose to pay for themselves also have a choice of flexible payment options, allowing for a more affordable way of accessing private healthcare.
To make an appointment, patients can request a referral from their GP or other allied health professional such as an Optometrist or Physiotherapist. In most cases, an appointment can be scheduled within 48 hours of the referral.
Career opportunities
The hospital offers a range of flexible working options and a strong commitment to training and staff development, with opportunities for both clinical and non-clinical staff to advance into specialist roles.
Over the years there have been numerous examples of staff who have progressed. For example, a member of staff who started employment as one of the housekeeping team completed her practitioner training, and is now an assistant practitioner within the imaging department. Euan McIntyre started his time at the hospital as a chef and is now the operations manager, a key member of the senior management team.
The hospital's strategy is to be 'a magnet for the best professionals', as they believe that having the right team and keeping them highly motivated is essential to delivering the high standards of patient care, growth and success of the hospital.
Find out more about BMI Albyn Hospital on its website, or search for jobs at Albyn Hospital and apply online here.