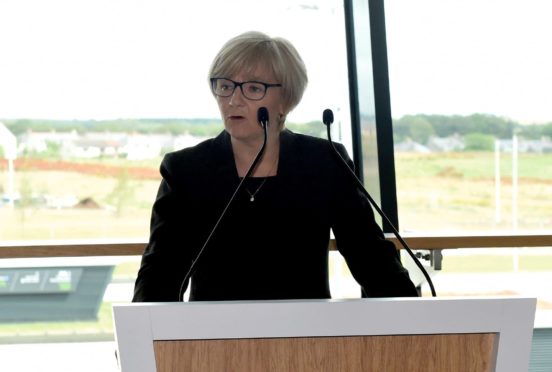 Aberdeen City Council co-leader Jenny Laing has blamed the suspension of nine councillors from the Labour party for its recent poor showing in a high-profile double by-election.
The fallout from Friday's results in Bridge of Don continued over the weekend.
Conservative Sarah Cross topped the poll with 1,857 first preference votes followed by the SNP's Jessica Mennie with 1,797 – meaning both were elected.
The Liberal Democrats pushed Labour into fourth place- picking up 929 votes to Labour's 305.
But with the prospect of a general election in the offing, senior politicians have weighed in on the results.
The suburb lies within the Gordon constituency, currently held by Conservative Colin Clark, which is a key target for both the SNP and Lib Dems.
Last night Mrs Laing, who was one of the councillors suspended by the party for forming an administration with the Conservatives in 2017, reflected on the "disappointing" outcome.
The suspension has meant that the councillors, many of whom have decades of experience, are not able to campaign for the Scottish Labour party in the same way their opponents are for their parties.
Mrs Laing said: "This was a disappointing result but unsurprising given it is now over two years since the Labour Party took the decision to suspend Labour councillors in Aberdeen.
"When you analyse the figures, it was also a disappointing result for the SNP as they were pushed into second place – and for the Lib Dems, who were unable to get their candidate elected in an area where they once had three councillors."
Meanwhile a jubilant Mr Clark said he thought the result showed the SNP had "reached a ceiling" in its north-east support.
He said: "Our by-election success– with our vote increasing by more than 10% on 2017 – is a clear indication that the Scottish Conservatives are the only party that can stand up to the SNP.
"Voters who believe in the Union and reject the divisive policies of the Nationalists know that they must back the Scottish Conservatives.
"It is also clear that the Liberal Democrats and Labour are too weak to beat the SNP."
But SNP group leader Stephen Flynn said: "Support for the Labour party has continued to fall off a cliff – with Jenny Laing keeping up her unenviable record of losing every by-election she has fought as Labour leader.
"The Tories threw everything they had at this seat – they sent out around 10 pieces of literature, something that is totally unprecedented for a council by-election.
"Opposition party votes totalled well in excess of those gained by the administration and I think that paints a very telling picture about how the people of Aberdeen regard their running of our city."
Liberal Democrat group leader Ian Yuill said: "The Liberal Democrats are very much back in business and we are again winning across the UK.
"The results can only be good for our prospects in winning back Gordon."