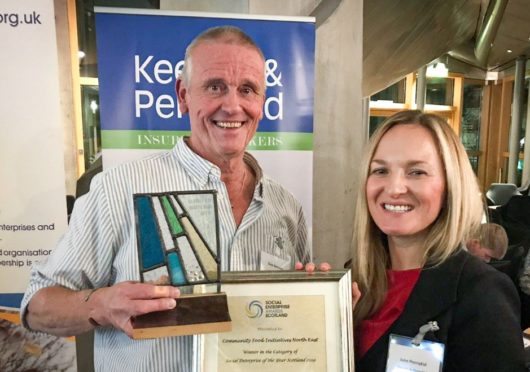 An Aberdeen charity has been awarded the coveted Social Enterprise of the Year title.
Community Food Initiatives North East (Cfine) offers a foodbank, training kitchen and financial advice to tackle poverty and help vulnerable, low-income and disadvantaged people in the region.
In addition, it supplies businesses, including NorthLink Ferries and Add Energy with fresh produce, and collects unwanted IT equipment to refurbish and resell.
The organisation has now been recognised by the Social Enterprise Awards Scotland, coming away with the body's top prize.
Cfine chief executive Dave Simmers said: "It is an honour that Cfine's social enterprise has received this award.
"A large proportion of our corporate customers operate in the energy sector, therefore the oil downturn had substantially affected Cfine.
"With the support of the Scottish Government, Aberdeen City Council and other funders, we navigated through this difficult time with an even greater focus on enhancing the profile of our social enterprise to increase the impact that we make within vulnerable communities.
"We are devoted to further expansion by researching and introducing new projects to Cfine that will enable the charity to provide support to more people in need."
Chris Martin, the chief executive of Social Enterprise Scotland offered a "huge congratulations" to the organisation.
He added: "The high standard of applications reflects the great mix of social enterprises across Scotland who are building an inclusive society and economy."