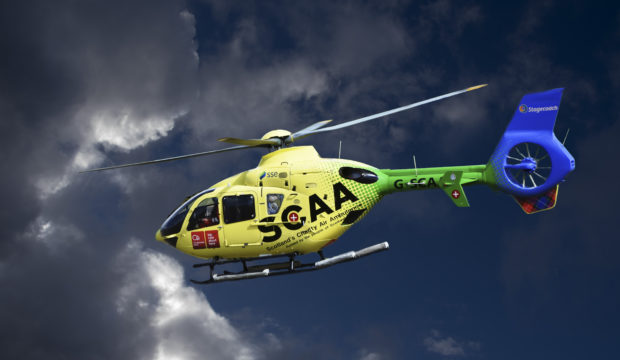 Scotland's Charity Air Ambulance is being given a well-earned if brief rest in Aberdeen as it takes centre stage at this evening's Press and Journal Energy Ball.
The presence of Helimed 76, the sister aircraft of the incoming Helimed 79, will be the centrepiece of a night that recognises the north-east's energy sector.
The Press And Journal announced this week that We're Backing Helimed 79 in a bid to bolster the SCAA fundraising towards the vital life-saving resource.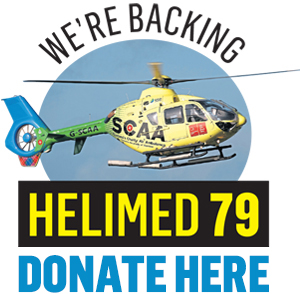 The charity has set the lofty target of £6 million to support the introduction of its second aircraft, based at Aberdeen airport, in March.
SCAA has so far raised about half of that total and will be hoping – as the charity partner of tonight's Energy Ball – that those attending tonight's glitzy affair help boost their purse.
It has already contracted Babcock to operate its new chopper, an EC 135 T2E, out of a hangar near the helicopter operator's main terminal.
Tonight its older sister aircraft, the EC135 T2i based in Perth, will give attendees a glimpse of the machine used to rush highly trained paramedics to Scotland's most seriously injured patients.
It's hoped the introduction of the charity's second copter will extend the reach of Aberdeen's major trauma centre – meaning more people will be within 45 minutes of its specialist care.
Helimed 76 arrived at Aberdeen International Airport yesterday ahead of its big appearance at the Energy Ball.
Today it will be transported by a dedicated team to the P&J Live and moved onto a loading bay at the arena.
Two rotor blades will be removed as it enters via rolling doors, before they are replaced and the helicopter is placed directly next to the stage for all guests to see.
SCAA's fundraising director Nick Harvey said: "It should make quite an impact.
"We've never done anything like this and I've certainly never heard of a helicopter at a ball before.
"We hope that Helimed 76's appearance will get people talking and that guests tonight will remember the evening for a long time.
"This is not a cheap business and we are so grateful to all those who are supporting the campaign and letting us continue to stay in the skies."
He added: "We have a helicopter that will be covering for Helimed 76 while it is in Aberdeen – we always reposition to make sure we are always ready."
A charity auction at tonight's ball will help raise funds for the campaign.
SCAA's chief executive David Craig said: "We are absolutely ecstatic to have the support of The Press And Journal and that has been developed from the early days of the campaign to bring our second aircraft to Aberdeen.
"To be chosen as the beneficiary charity for the Energy Ball with about 600 people – senior individuals from businesses across the north-east – will give us the opportunity to reach out to people we perhaps haven't managed to before.
"Having the helicopter will hopefully create a huge buzz. Everyone involved with the charity is hugely excited to be part of the event."
---
Scotland's Charity Air Ambulance has made a huge impact since 2013, saving lives and preventing suffering. 
That is why the P&J campaigned successfully for SCAA's second helicopter to be based in our region. 
The countdown is now on for the aircraft – call sign Helimed 79 – to start flying missions from Aberdeen Airport. 
But this is an emergency service that relies entirely on donations. 
Each call-out costs about £2,500 and SCAA needs P&J readers to help hit its £6million target and get things off to a successful start. 
So please do anything you can to raise those funds and show that We're Backing Helimed 79.
---
Ways to donate to SCAA
Website: www.scaa.org.uk/donate
Text: Text 'SCAA' and the amount to 70085
Phone: 03001231111
Cheques: Made payable to 'SCAA' or 'Scotland's Charity Air Ambulance' and sent to: Scotland's Charity Air Ambulance (SCAA), The Control Tower, Perth Airport, Scone, PH2 6PL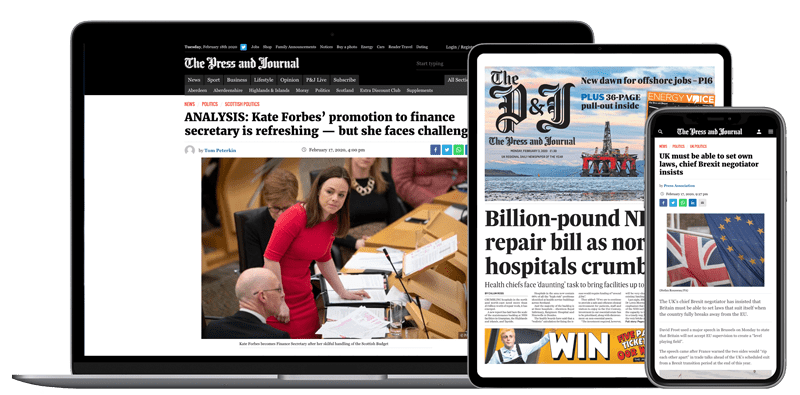 Help support quality local journalism … become a digital subscriber to The Press and Journal
For as little as £5.99 a month you can access all of our content, including Premium articles.
Subscribe