VIDEO: Aberdeen restaurant destroyed after flames tear through building in early morning blaze
An Aberdeen restaurant has been destroyed following a fire in the west end area of the city this morning.
Eight fire appliances were called to Valentino's, formerly known as Dizzy's, on Carden Place shortly after 2am.
It took around seven hours to bring the fire under control using an aerial ladder platform alongside numerous hose reel jets.
Pictures of the incident appear to show the roof of the property has caved in with its window arches barely standing up.
Police Scotland would like to advise motorists that there is a road closure in Aberdeen on Carden Place between Fountainhall Road and Albyn Terrace Lane due to a building fire.
The public are asked to avoid the area if possible and thanked for their patience.

— North East Police (@NorthEPolice) December 23, 2019
Police have closed Fountainhall Road and Albyn Terrace Lane while work continues to control the fire.
A cordon has also been put in place at Blenheim House to Blenheim Place.
Motorists are being asked to avoid the area.
A spokesman said: "Police are working alongside fire crews in the Carden Place area following reports of a fire this morning.
"Fountainhall Road and Albyn Terrace Lane are closed to the public and we are asking motorists to use alternative routes."
A statement from the fire service said: "We were alerted at 2.11am to reports of a fire with a commercial building in Aberdeen.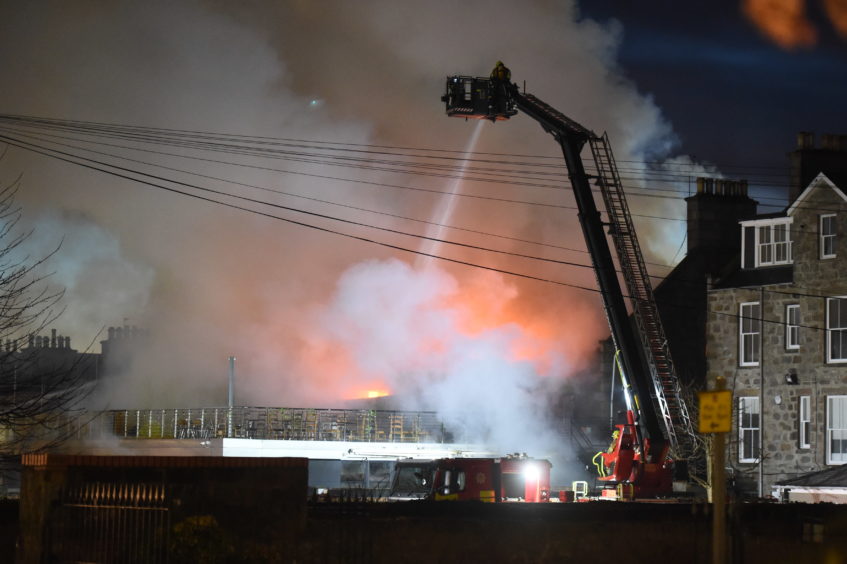 "Operations Control has mobilised a total of eight appliances to Carden Place and firefighters are presently working to contain the fire which has taken hold of the roof of the two-storey premises."
There are no reported casualties.
Reaction
Reverend Scott Rennie, minister of Queen's Cross Church, said the events are deeply upsetting: "It is really sad – I think of all the people who work in the property, who we know very well and are great people in our community.
"It's a horrible way to enter the Christmas season.
"We are just really shocked."
George Clark, managing director at Quantum Claims spoke to Original 106 at the scene.
He said: "One of my colleagues was called by the fire brigade and came on site about 2.30am to 3am I think and then he telephoned me at home, just to let me know what was going on."
He added: "It's just a shock. We've been in that building since 1991. It's a home from home for some of us.
"The main thing is no one's injured, there's no loss of life.
"We'll start the rebuilding processes as soon as we can and move forward"
"For any clients of ours, i'd like to get the message out there, it will be business as normal, everything's backed up, files are secure.
"In a modern age, an actual base doesn't really mater too much anymore."
Liam McAllister from Lefevre Litigation said: "We were made aware of the fire this morning – it was all over social media.
"We are relieved that no one has been hurt due to the incident and we look forward to be back in the New Year in to continue operating business within the office. However we will still represent out clients at court over the Christmas and New Year period."
"It will have a big impact on the local community, there are a number of businesses in that development that will now have to rebuild. The time of year isn't great but there is never an ideal time for these situations – just got to move forward."
Devastating news for us today ….major fire has destroyed all of No 70 .
Nobody hurt .
All we are is what we say in court and the experience we bring to that situation .
We hope the service to those that need us isn't too badly affected .
If you need gjk@lefevre-litigation.com pic.twitter.com/RoEpMfiDaJ

— Lefevre Litigation (@LefevreAberdeen) December 23, 2019