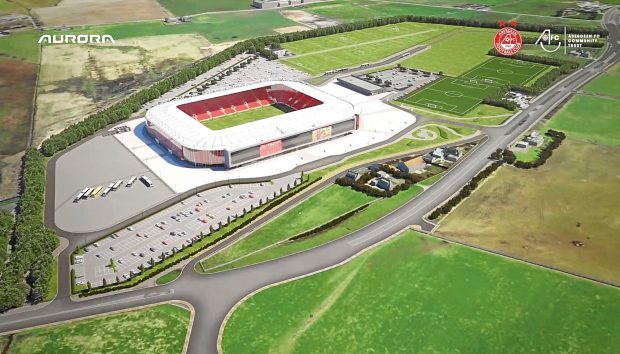 Dons bosses have suggested shutting off a major north-east road to allow fans to disperse after games.
Aberdeen Football Club is building its new £50 million stadium at Kingsford, off the A944 Aberdeen to Alford road.
Now correspondence between the club and Aberdeenshire Council shows that bosses are considering closing off the busy road for 30 minutes after matches to allow the stadium to be vacated.
Traffic would be diverted through the local business park.
Campaigners from West Aberdeenshire Environmental Protection Association (WAEPA) – who obtained the documents – have warned such a plan would cause chaos.
In a statement, the group said: "It's one thing closing Park Road for 20-30 minutes to clear Pittodrie, but a completely different scenario will arise closing a dual carriageway that is not only a key arterial route in and out of the city, but is adjacent to a major roads interchange that has thousands of cars using it every hour."
A spokesman later added: "It would seem that the original plans presented were merely an attempt to appease the council officers and gain planning consent.
"A robust traffic modelling exercise will be required to demonstrate that a 30-minute closure of the A944 dual carriageway will not have a major detrimental impact on all road users, not just football traffic.
"Aberdeen FC seem to be putting delivery of their stadium above anything else. These changes benefit the club's financial balance rather than the community to whom they promised to be 'good neighbours'."
The suggestion is one of a number of changes to the planning conditions attached to the project that have been suggested by the Dons.
When the controversial stadium was approved, the club said it would build a footbridge over the A944 but are now considering a pedestrian crossing instead.
The planning conditions only state a safe crossing must be provided, rather than stipulating exactly what the Dons do.
WAEPA obtained the correspondence using freedom of information legislation.
One of the documents, an internal planning report to Aberdeenshire Council in November, states: "The proposal to allow safe crossing of the A944 is no longer a bridge.
"Instead it is proposed to add an additional part-time crossing point right on the city/shire boundary to allow the flow of pedestrians from Arnhall to the stadium.
"For post-match, the solution proposed is to close the A944 and divert traffic through the business park for between 20-30 minutes.
"Significant concern was expressed about this, especially since no modelling has been done and pedestrians would have to cross the diversion route."
Any proposed changes to the conditions attached to the stadium's consent would have to be determined by Aberdeen City Council. Aberdeenshire Council would act as a consultee.
Raymond Edgar, project director said: "The club is currently working through the conditions with both local authorities. As with any development of this scale, this process requires more detailed information and analysis, not available prior to planning being granted.
"It must also take account of other developments in the locality which have been approved since the consent for the stadium was granted and have a bearing on issues such as transport and traffic.
"We have also entered into discussions with the police and Stagecoach as their input, which is now required at this stage, will have an impact on our previous plans. The councils have provided initial comments for the club to review, which will help inform the next steps in what is an iterative process to ensuring the best outcome for all concerned.
"Throughout this process, our focus is on delivering a stadium that is easy and safe to get to and from with minimal impact on local residents and which satisfies the conditions. It is worth noting that the consent does not specify that a footbridge is required over the A944, merely a safe means of crossing for pedestrians. We are exploring ways of achieving this in the best way possible that takes relevant planning and roads issues into account."
Dons chairman says 2023 Kingsford date is 'moveable'
The club initially hoped the first Dons games would be played at their new £50 million home by 2023.
That may not become a reality, with new Dons chairman Dave Cormack describing the date as "moveable", but in the background, construction of other facilities has continued apace.
At the end of October, a major £13 million new training facility opened on the Kingsford site – branded as phase one of the project.
And Mr Cormack, who recently replaced the longstanding Stewart Milne at the helm, has said he is still committed to the vision for the site.
Some fans have looked to the example of Hearts, where the club have renovated their historic Tynecastle home.
But Mr Cormack said that constructing an entirely new stadium would prove far cheaper than refurbishing Pittodrie to modern standards.
The Atlanta businessman, however, does say he is open to staying at Pittodrie beyond 2023.
In November, when asked if he would rule out staying at Pittodrie, he said: "You can never say never. If we can't raise the money, we can't do it.
"We are confident our best opportunity is to move out to Kingsford but the 2023 date is moveable.
"I'm not fixated on two years here or six years here. I want to make sure we are investing in the football team as there is no way we are going to invest in a stadium and have a team which is ninth in the league.
"The critical factor for us is the performance of the first team."