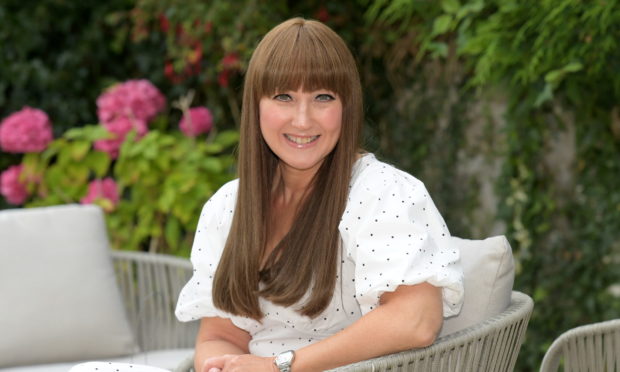 Amanda Wright is walking briskly down the street, umbrella held aloft as she smiles in greeting.
The drizzle has turned to a downpour, but the mum of two looks immaculate in a tie dye shirt and trendy mac.
"Sorry I'm a bit late," she says, before taking a seat outside the city centre cafe.
Her arrival is but one minute past the hour, and Amanda confesses to feeling nervous before taking a sip of coffee.
Speaking about something so deeply personal cannot be easy, especially when you are sitting across from a complete stranger.
The rain patters on the umbrella as Amanda chats about her two children, and her extensive volunteer work at Childline and Celebrate Aberdeen.
She took on a new post with Alopecia UK earlier this year, which holds an altogether more personal meaning though.
Having accepted the position in February, Amanda is only just getting to grips with her role due to the pandemic.
"Some people really struggled in lockdown, and others found that not going out actually eased the anxiety," said Amanda.
"It's been different for everyone, but we've been able to have our first meet-up and go for a walk.
"It was brilliant to swap stories and tips, and we come from across the city and shire."
Although Amanda may look confident, it has taken more than 30 years to reach gradual acceptance.
She hopes her story will encourage other people to come forward and seek support, for what is a surprisingly common condition.
Amanda takes a deep breath and smooths her long chestnut hair, complete with a neat fringe – she is ready.
"I am the group support lead for Alopecia UK in Aberdeen," she says, a hint of pride in her voice. "It is a national charity, but there has never been a group in the north-east before. That's perhaps surprising, given how common alopecia is.
"I'm telling my story, partly because September is Alopecia Awareness Month.
"The amount of people who have been in touch, it impacts on people far more than you would think."
Amanda's gorgeous locks are in fact a wig, which she always wears when in public.
Indeed she has only recently found the confidence to remove the wig in front of her husband, Jim. The couple have been together for 20 years.
"My hair started thinning when I was 12 years old," says Amanda.
"I'd go for a shower and huge clumps would fall out.
"I was in the doctors a lot over the next few years, but my symptoms were dismissed.
"I was so young and I think everyone thought my hair would grow back."
Amanda was eventually diagnosed with alopecia totalis, meaning complete loss of hair on the scalp.
By the time she was 13, she was forced to wear her first wig.
"The hair loss had got so bad, and when you're that age you don't want to draw attention to yourself," Amanda says.
"So I had my first wig and it was honestly the most disgusting thing I had ever seen.
"I looked so old fashioned, it was a bob style which was curled up at the ends.
"Thankfully our neighbour was a hairdresser, so she cut it and tried to make it nice.
"There just wasn't wigs available for kids, my scalp was small so it was difficult trying to find something to fit.
"I remember how itchy it was as well."
Wigs have thankfully improved, and Amanda's wigs are now made to measure.
She can pick the colour and style, and expects a wig to last around nine months.
"I've been wearing a wig for such a long time now, that I actually forget about it," says Amanda.
"It's not the first thing I think about when I wake up, because you find ways to cope.
"People says it's just hair, but it can impact on absolutely everything.
"Your confidence, school, work and relationships."
I've learned not to let alopecia rule my life."
Amanda met her husband through mutual friends when she was studying at RGU.
And although he already knew about her hair loss, she only removed her wig in front of him last year.
"It was Christmas when I finally did it; we have been together 20 years," says Amanda.
"It doesn't matter to Jim, but I had always wanted to retain some femininity.
"I don't feel so feminine without my hair, but now I'm quite happy to walk around the house without my wig."
Amanda was partly driven to set up the support group by her two children, who she has always been open with.
"I speak to them about my hair loss all the time," says Amanda.
"My daughter tells everyone, she's hysterical.
"Alopecia isn't hereditary, but I still want my kids to have a role model should it ever happen to them.
"I don't want them to feel they must protect me and keep everything a secret
"Losing my hair felt like going through the stages of grief, you are losing a part of yourself.
"The support group enables you to talk with other people who understand. I've been contacted by both women and men.
"I've learned not to let alopecia rule my life."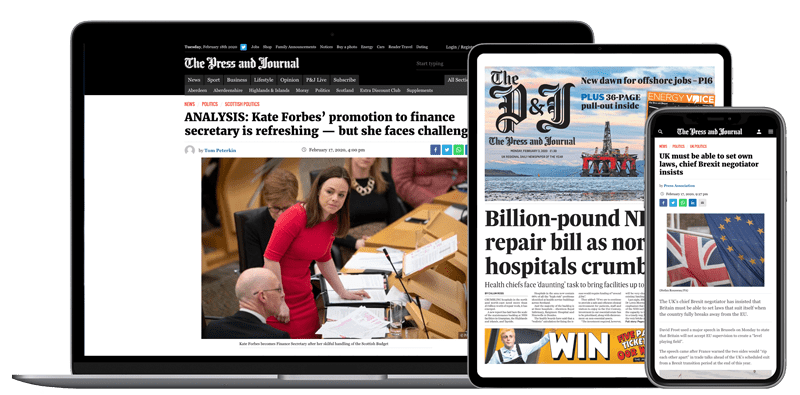 Help support quality local journalism … become a digital subscriber to The Press and Journal
For as little as £5.99 a month you can access all of our content, including Premium articles.
Subscribe