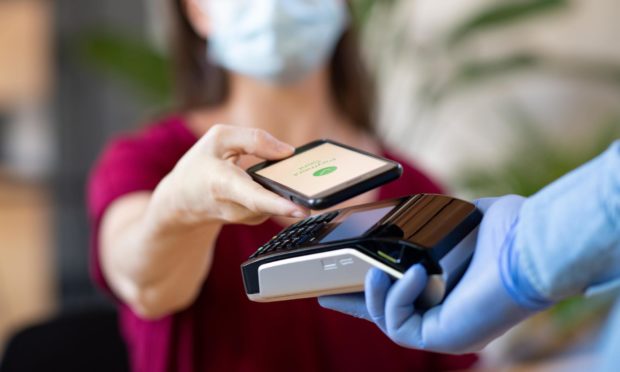 New data has shown a drastic decrease in people withdrawing cash from ATMs across Scotland since lockdown was announced and paying by card was encouraged.
Published by the UK's main cash machine network, Link, the figures show that although ATM withdrawals have recovered from a decrease of 65% in early April, they are still down on average by around 35% compared to the same time last year.
The biggest decrease in the use of cash machines was noted in Glasgow Central at 70.5% but Orkney and Shetland figures were close to the central belt at 70.2%.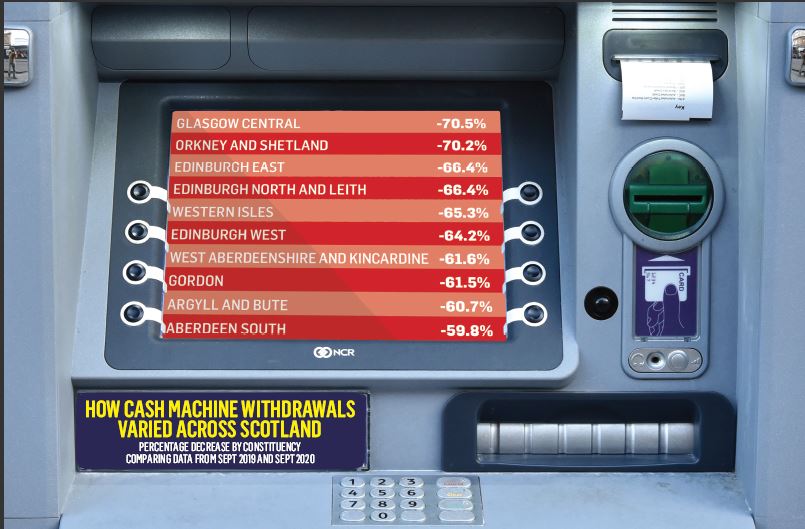 With withdrawals falling across Scotland by 52% between April and September – compared to the same period in 2019 – people took out £2.5 billion less this year.
Figures for the Western Isles noted a 65% drop with West Aberdeenshire and Kincardine machines being used 62% less often.
Aberdeen South experienced a slightly lower decrease in use at 60%, as the lowest percentage drop was recorded in Glasgow north-east at 34%.
Inverness, Nairn, Badenoch and Strathspey withdrawals were down by 61% while Moray noted a much lower drop of 52%.
Link's head of financial inclusion, Nick Quin, said: "It is interesting to see stark differences in cash withdrawals across the country, most notably within Glasgow, but even from one town to the next.
"Some of this is down to the fact that people aren't visiting busy city centres or that the local ATM may have temporarily closed. More importantly, we can see that some communities are far more reliant on cash and quite often cards and digital payments don't work for everyone.
"We're delighted to see that the UK Government recently launched a consultation to protect access to cash. Covid-19 has changed payment habits, possibly forever, but cash still remains important and it's vital we protect it."
Around 600 ATMs were closed in Scotland at the beginning of the pandemic as many were located in premises that had to shut due to government restrictions.
This included cash machines located in shops, airports, garden centres, pubs, train stations and supermarkets.
By the end of September around 50% of these had reopened and there are currently 4,000 free to use cash machines across the country with a further 1,200 ATMs that charge for withdrawals.
The research also found that throughout the pandemic people visited cash machines less often but took out more money when they did.
In February the average transaction value was £68 and this increased to £86 in May, dropping slightly to £78 in September.
Many shops also encouraged payment by card at the beginning of Covid-19 restrictions with 29% of people saying they had experienced situations where they would have preferred to use cash, but instead used a card because the shop they were in discouraged cash payments.
The research has been released just days after The Post Office announced plans to cut a third of its cash machines in the next 18 months, raising concerns for those living in rural communities.
By March 2022, they will shut 600 ATMs but the company has said those facing closure aren't used a lot and have other free cash facilities nearby.
Although customers will be able to withdraw cash over the counter free of charge in these locations, concerns were raised for those who will be negatively impacted by a cashless society, such as the elderly or those on low incomes.