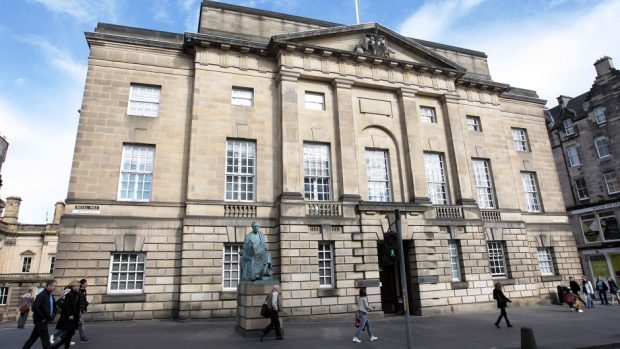 A teenage sex offender was jailed for more than six years today  after carrying out a crime spree that left a judge branding him "a dangerous young man".
Drug-fuelled Darren MacAllister struck as a 16-year-old when he carried out a sexual assault at a Highland village on a woman who he told: "You let me come in and I will show you a good time."
A year later he seriously sexually assaulted an 11-year-old girl outside a church in Aberdeen  in February last year after sending her messages asking for sex and photos of her.
Armed intruder MacAllister also entered the house of another woman in the Highlands who was at home with her 11-month baby.
A judge told MacAllister, now aged 18, at the High Court in Edinburgh: "I am satisfied that, at the moment at least, you are a dangerous young man who presents an ongoing risk of sexual offending, particularly in regard to young girls."
Lord Turnbull told him: "It is therefore obvious that only a custodial sentence could properly reflect the gravity of your offending."
The judge imposed a total of six years and seven months detention on the teenager and ordered that he be kept under supervision for a further four years.
Lord Turnbull told him that he took into account his age at the time of the offending and his upbringing and pointed out that a background report on the youth had shown an absence of parental guidance.
MacAllister, who is detained at Polmont Young Offenders' Institution, earlier either admitted or was found guilty of a total of nine offences including assault, sexual assault, underage sex and rape.
He had intercourse with a 13-year-old girl at a house in a village near to Dingwall when he was aged 16.
On February 1 in 2014 the stranger turned up at woman's home in Strathpeffer asking for a girl. He asked the woman if she lived alone and she replied her husband was upstairs in bed.
He told her: "You let me come in and I will show you a good time."
The woman was alarmed and went to close the door but the teenager stopped her and pushed it open.
He grabbed the woman by the shoulders but she pulled away from his grip and shouted for her husband. The husband heard his wife scream and ran downstairs but MacAllister had made off.
His wife told him what had happened and he went looking for the youth in his car but was punched by the teenager when he caught up with him before MacAllister fled.
Later the same night the intoxicated teenager went to another house in the village and told a 69-year-old man that his mother had thrown him out and asked if he could stay the night.
He was told he could not and punched the man before pushing past him into the house. The man and his partner tried to push the stranger out and the teenager fled. The youth then threw a boulder through the kitchen window.
MacAllister was found by police in a garden. He was taken to a police station and said: "I just hit him. He would not let me in his house, I needed somewhere to stay."
On March 30 in 2014 MacAllister carried out a sexual assault at another woman's home at a village near Dingwall where she was with her baby son. She walked into the hall and found the teenager, who she did know, standing there.
She asked what he was doing and he said he needed a knife. The woman noticed he already had a knife in his left hand. She told him to get out and that she was going to call the police.
He grabbed her hands and asked her name and asked for a hug, but she picked up a phone and pushed him out the door.
In February last year he sent text messages of a sexual nature to the 11-year-old girl before assaulting her in a sex act in Aberdeen outside a church near a park at Gerrard Street.
Defence solicitor advocate Chris Fyffe told the court: "He is a young man who seems to have been given little or no parental guidance in his childhood. He was left very much to his own devices."
He said the youth had begun abusing drink and drugs at an early age.
He said that MacAllister had expressed "some regret" over some of the offences.
The teenager was placed on the sex offenders' register.