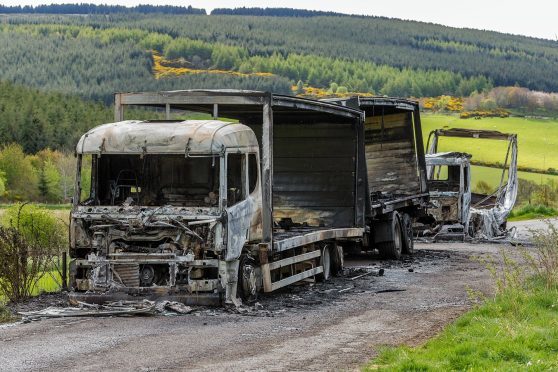 Police have launched a new appeal for information after a third vehicle was linked to the theft of two burned-out lorries from an industrial estate in Aberdeen.
Officers are continuing to hunt the perpetrators of the theft of two HGVs from M&H Logistics in West Tullos at around midnight on Sunday.
Both lorries were then driven over 40 miles from the scene of the crime before being unloaded and set alight at a lay-by on the A97 to the south of Huntly.
Police have now revealed that another fire-ravaged car, found on an area of grass in Hazlehead, could be connected to Sunday's heist.
The silver Renault Megane was found in a field at the back of Queen's Den at around 12.30pm on Monday.
The car is of interest to officers who are encouraging anyone who saw it to contact them as a matter of urgency.
Detective Inspector Stuart McAdam said: "This incident appears to have been a well-organised crime with a significant value of property stolen and damaged.
"I would urge anyone who saw a silver Renault Megane motor car in the Hazlehead area around lunchtime on Monday, May 16, to contact us as soon as possible."
Yesterday, a police spokeswoman confirmed that one of the HGVs contained furniture whilst the other was packed with a large amount of alcohol.
Both were unloaded before the culprits started the fire.
The spokeswoman said: "As far as we are aware, everything was out of the vehicles before they were set on fire.
"One had been carrying furniture and the other contained alcohol."
The actions of those responsible have been condemned by councillors, who branded the crimes as "horrendous" and "mindless".
Jennifer Stewart said: "Hazlehead is a lovely area where we don't usually experience things like this, so it is worrying to hear about this vehicle being set on fire.
"I can absolutely understand community concerns over this; this crime is horrendous and mindless.
"It is abhorrent particularly in these difficult financial times when, at the end of the day, someone will have to pay for this and ultimately it will be the public."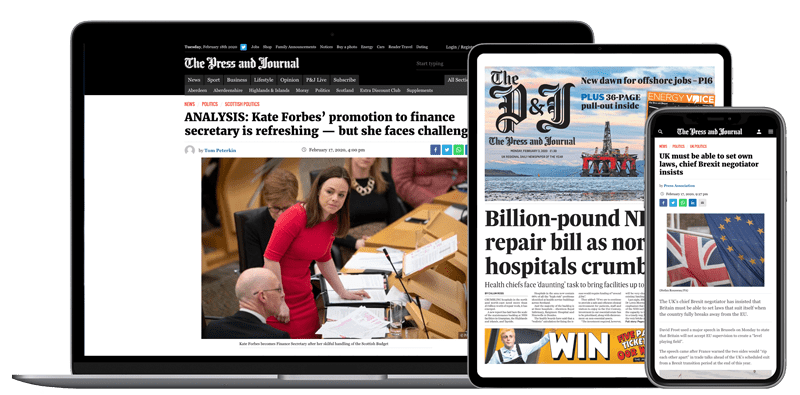 Help support quality local journalism … become a digital subscriber to The Press and Journal
For as little as £5.99 a month you can access all of our content, including Premium articles.
Subscribe